A tranquil spot, a cup of tea, a book, and something to nibble. Afternoon tea is my favorite time of day. Please join me for Thé de 5 Heures.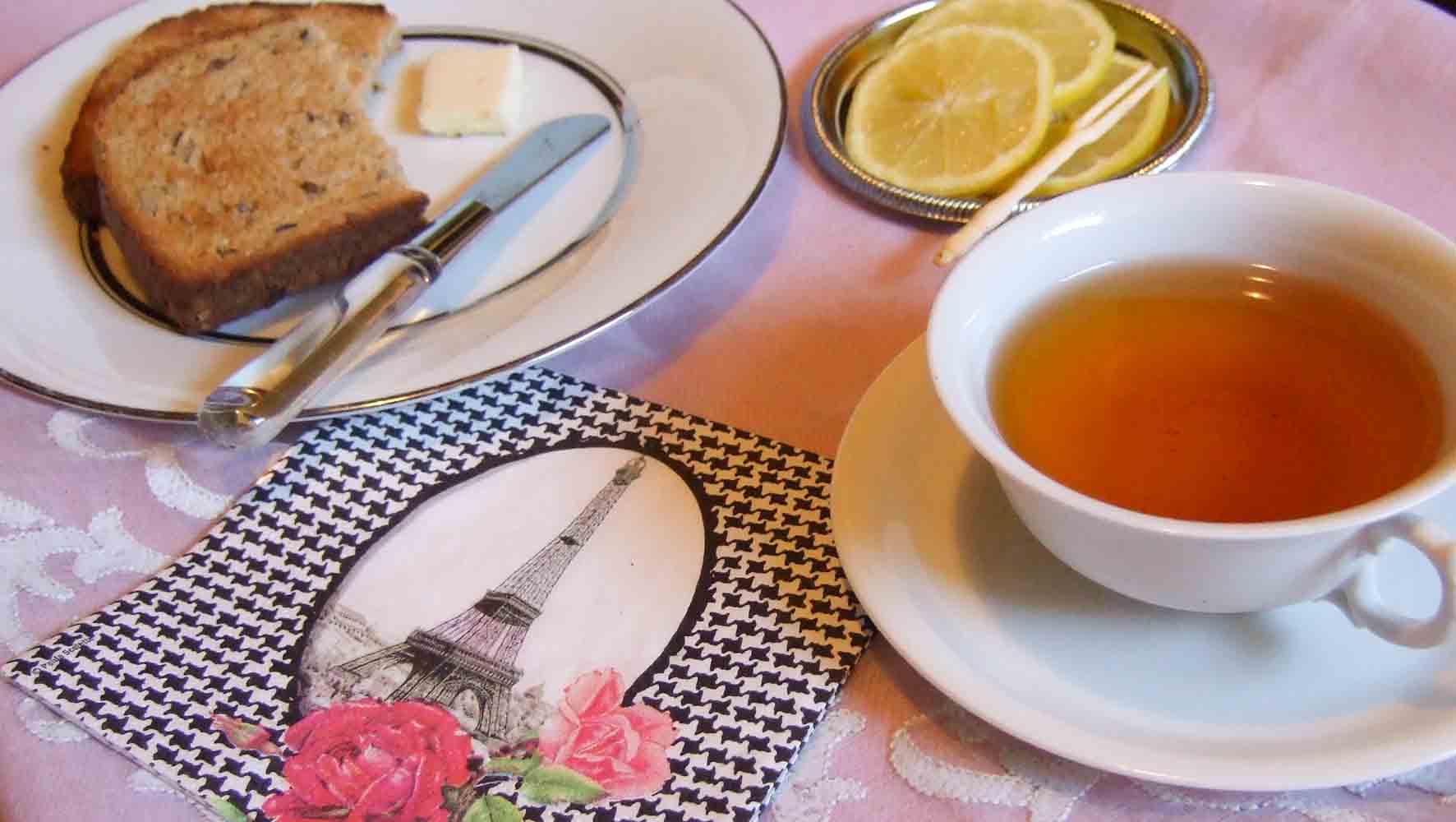 A French Tea
thé du jour / today's tea
Min Estate 2nd Flush Darjeeling. Estate teas, like estate wines will vary from year to year depending on the vagaries of the weather — and on other factors. For the past several years I have been having good luck with Min Estate Darjeeling. You definitely do not want to steep this tea too long — at least with my water, you don't. When the timer signals 3 minutes, it is time to strain into the teapot. Immediately. Else the taste is very astringent.
le casse-croûte / the snack
Buttered toast. Simple, but oh so delicious when a slice of good bread is toasted and then spread with rich dairy butter or your favorite nut butter. In my case, today I am spreading a slice of whole grain bread with Irish butter (churned from milk from cows grazed in Ireland on the green pastures of family farms, so the label says).
la musique / the music
Piano music by the French composer Cecile Chaminade (1857 — 1944). Her flowing and melodic Serenade or 6 Romances Sans Paroles or La Lisonjera make appropriate background music for a French tea.
à lire / to read
French Tea: The Pleasures of the Table by Carole Manchester. French Tea has long been my favorite book about tea. Though this 1993 book is now out of print, numerous used and new copies are available from online sellers. The book can be found in libraries and from used book sellers.
Carole Manchester's text takes me into the world of tea as the French practice it. I love the elegant photographs by Juliette d'Assay that accompany the text. Recipes guide me toward making the foods in the French style to accompany my teas. I was happy to learn that in addition to little pastries and savories, the French like healthy, substantial foods with their tea, such as the Quiche aux Courgettes, Zucchini Quiche.
What about chic French women and tea? In French Tea, you find this quote from Marcel Proust's Swann in Love (first volume of À la Recherche du Temps Perdu).
" . . . her expression grew serious, worried, petulant because she was afraid of missing the flower show or merely of not being in time for tea, with muffins and toast, at Rue Royale tearooms, where she believed that regular attendance was indispensable in order to set the seal upon a woman's certificate of elegance . . ."
Even casual French teas have an elegance in their choice of tea, foods to accompany, the dishes on which they are served and the vessel in which the tea is made. Elegant too in the setting. All contrive to relax and bring pleasure. Teatime is a perfect way to destress.
image: a crystal-handled spreader and Eiffel tower tea napkins make Anne Barone's French Tea special