A tranquil spot, a cup of tea, a book, and something to nibble. Afternoon tea is my favorite time of day. Please join me for Thé de 5 Heures.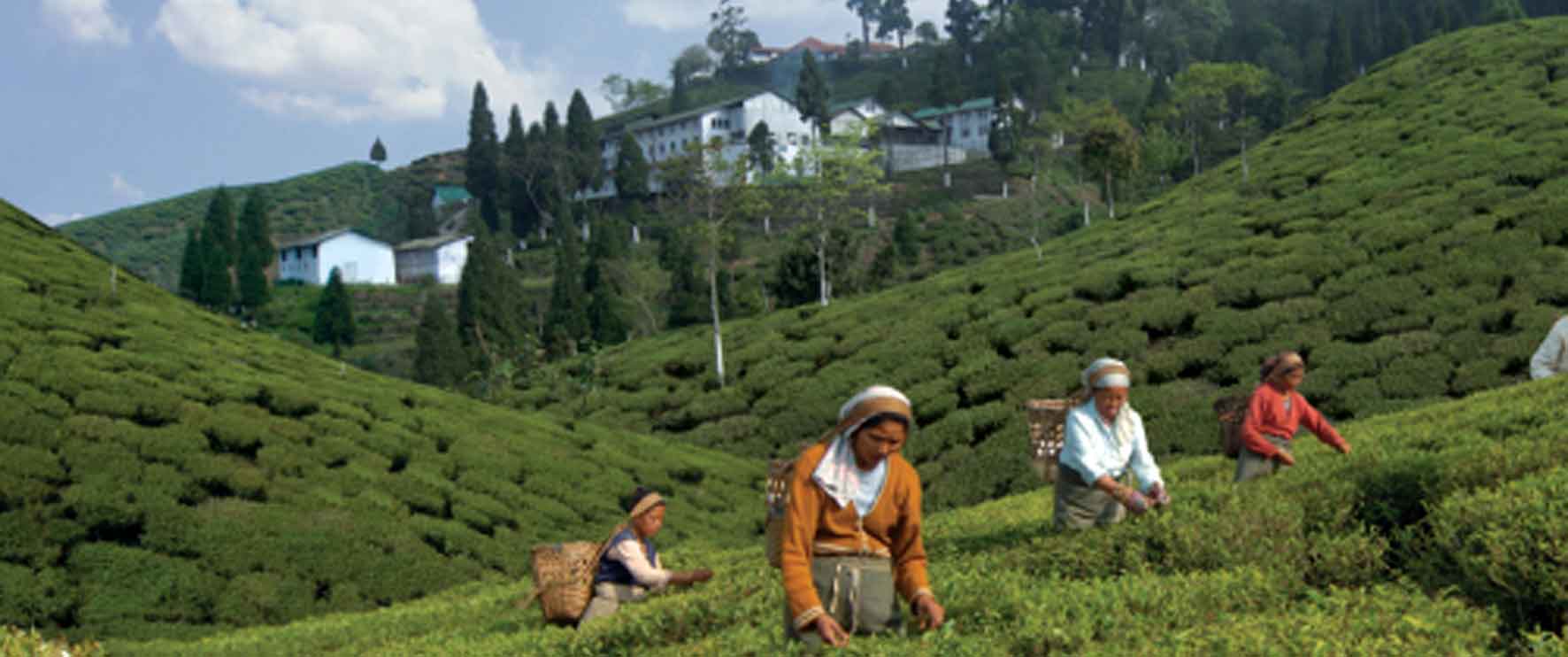 A Margaret's Hope Tea
thé du jour / today's tea
Margaret's Hope Estate 2nd Flush Darjeeling. Margaret's Hope seems perhaps an odd name for a tea estate in the Darjeeling region of India. Established in 1864, the estate was originally called Bara Ringtong. But in 1927, the tea estate manager's daughter, a young Englishwoman named Margaret, visited. Margaret was so captivated by the tea estate and its scenic beauty that she wanted to make the estate her permanent home. For reasons never stated, she was forced to return to England. She died on the voyage home. Her grieving father renamed the estate Margaret's Hope in memory of the daughter who loved it so.
Today Margaret's Hope Tea Estate, is owned by the Goodricke Group, an Indian company headquartered in Kolkata (formerly Calcutta).
The 2015 2nd Flush Margaret's Hope Darjeeling I have been drinking is a lovely tea that I have been enjoying even more since, with a bit of experimentation, I discovered that brewing the tea as I would a green tea (water at 180 degree F. rather than at boiling as is usual for a black tea) produced a better-tasting tea.
Whittard of Chelsea UK says of Margaret's Hope 2015 1st Flush Darjeeling:
One of the oldest tea gardens in Darjeeling, Margaret's Hope Estate is famed for its sublimely delicate First Flush variety, crafted from the first harvest of the year at the very beginning of spring. With its fragrant muscatel sweetness and bright, refreshing finish, this was one of the finest tea to be produced in 2015.
Today Margaret's memory is kept alive by the estate's world-famous First Flush, consistently excellent year after year.The tea is cultivated at altitudes of 915-1830m, primarily from the original China Jat bushes which would have been growing in Margaret's day. A good First Flush all depends on the level of rain that spring; a flood or drought can destroy the crop, so you can never be sure how the tea will turn out. When news came of this year's First Flush, picked in early April, we were all on tenterhooks as we waited for the first tasting.
We weren't disappointed - in fact, we were frankly bowled over by the results. As we'd expect from such a superior estate, this year's First Flush has the fresh, effervescent quality that many compare to champagne, with the pungent fruity fragrance of a fine muscatel wine and a lovely golden colour to the cup.
Wouldn't Margaret be happy to read that?
le casse-croûte / the snack
Cucumber Sandwiches. Despite E. M. Forster's A Passage to India's Adela Quested who voiced disdain for the savory for an Indian afternoon tea, I think a cucumber sandwich on lightly toasted buttered whole grain bread, with a bit of dill to flavor, is the perfect accompaniment to my cup of Margaret's Hope Darjeeling.
la musique / the music
Serenade for Strings by Edward Elgar: Elgar was one of the most popular British composers of the 1920s when Margaret visited the tea estate that would later bear her name. Elgar's Pomp and Circumstance Marches, though associated with the height of the British Empire, might be a bit energetic for teatime background music. His Serenade for Strings much more appropriate.
à lire / to read
A Passage to India by E. M. Forster. What better to read while sipping Margaret's Hope darjeeling than A Passage to India by English author E. M. Forster? His 1924 novel is set against the backdrop of the British India in the same era in which Margaret made her 1927 visit to India. You might also like to view David Lean's 1984 Academy Award winning film based on the Forster novel.
Whittard of Chelsea Margaret's Hope First Flush
image: workers gathering tea leaves at Margaret's Hope Estate. Photo courtesy Whittard of Chelsea, UK. Tea merchants since 1886.