|| 18 October 2015
Sylvakandy Estate Orange Pekoe Tea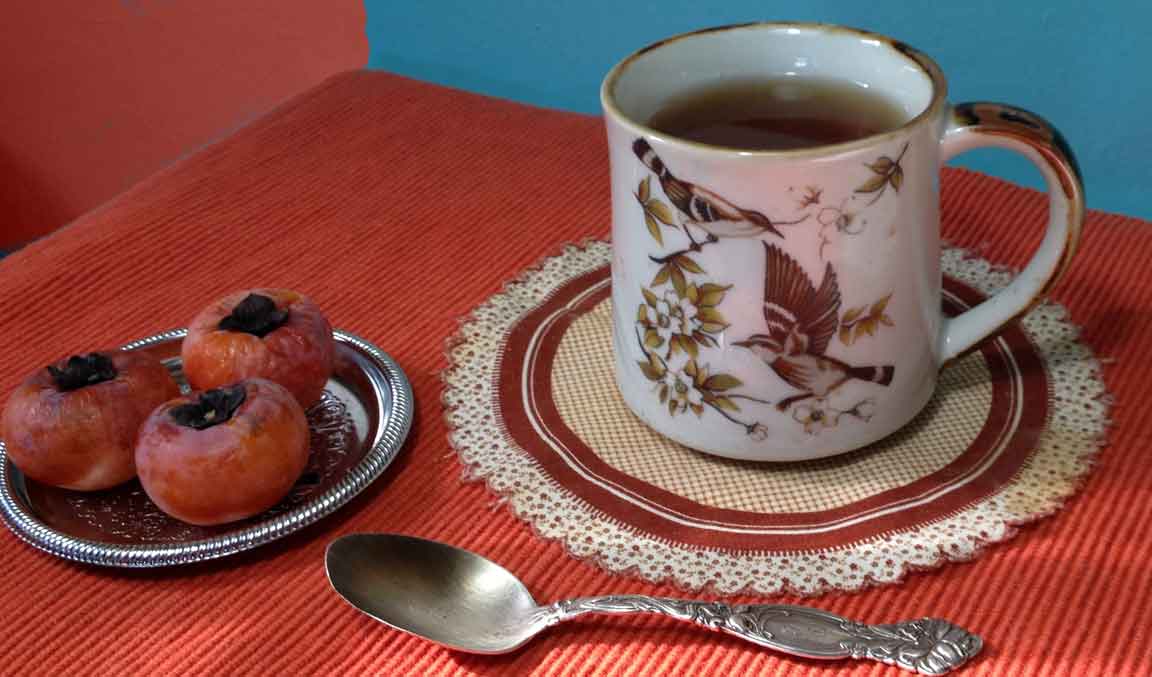 Sylvakandy Estate Orange Pekoe. This single estate tea is grown in the Kandy region of Sri Lanka. Though the name of this island nation is now Sri Lanka, we still call the teas produced there by the former name: Ceylons.
Ceylons have long been my afternoon tea of preference for autumn. I think teas grown on that island taste particularly good with pumpkin pie topped with fresh persimmons, my favorite autumn afternoon tea pastry. Ceylons are also a good tea for anything with apples and cinnamon. Most recently, the Ceylon I have drunk in autumn was a Ceylon from the Diyagama West Estate in the Dimbula Valley that Taylors of Harrogate offered as a "Special Rare" tea. And for years in autumn I drank Kenilworth Estate Ceylon.
Single estate teas, like wines produced from grapes grown on a single estate, can vary widely from year to year. The Sylvakandy Estate Orange Pekoe Ceylon I am currently drinking I ordered a couple of weeks ago from The English Tea Store. I am not sure I have yet got the proper brewing times and type of water to suit my taste.
Steeping three minutes in water filtered with my Britta filter didn't produce much taste at all. This tea needs five minutes for my tea taste. When I tried steeping five minutes with water that was about 10% tap water with the 90% Britta filtered water, I got a better, more Ceylon taste than with 100% filtered water.
Sylvakandy Estate Orange Pekoe is described on several tea websites as having a floral taste. The dark, long, slender wiry dry unsteeped tea leaves have what I would describe as a light chocolately flowery fragrance. And the strong citrus taste that you find in some Ceylons is absent. Though I don't think I would say the taste is "malty" as some describe. Not in the sense of malty in an Assam. More chocolately.
English Tea Store suggests that a dash of milk brings out Sylvakandy's special flavor. Perhaps so, but so far I think I prefer this year's tea without milk. Especially when drunk accompanying a teatime pastry.
I prefer Sylvakandy Estate Orange Pekoe as an afternoon tea. (Though I will mention that the French like a Ceylon for a breakfast tea.) I will continue to experiment with brewing times and amounts of tea leaves per cup of water.
The Sylvakandy tea is an economically priced Ceylon. While it has not yet replaced Kenilworth Ceylon in my favorites list, I am enjoying my trials with various brewing amounts and times. Especially with cinnamon flavored pastries.
Stress can make it difficult to stay slim. But a cup of hot tea and a few minutes to relax and savor a mild autumn day can be a pleasant aid to de-stressing. Before the Halloween through New Year's craziness begins.
be chic, stay slim — Anne Barone
image: A de-stressing cup of tea served in a glazed ceramic mug from my mother's mug collection.