A tranquil spot, a cup of tea, a book, and something to nibble. Afternoon tea is my favorite time of day. Please join me for Thé de 5 Heures.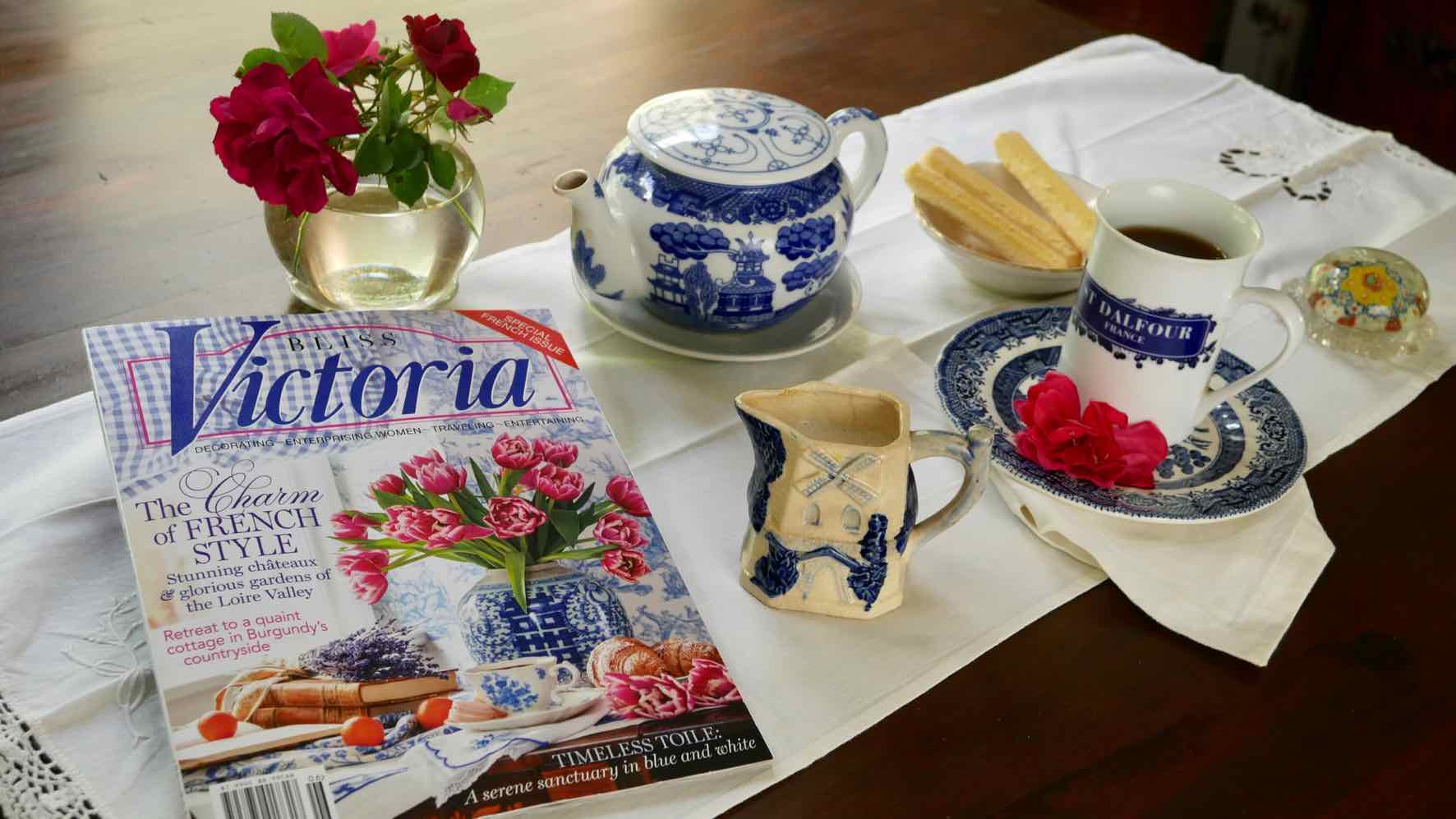 A Victoria Special Issue 2020 Tea
|| 12 April 2020
It is that time of year again. And thankful we must be for the annual Victoria Special French Issue. Impossible to enjoy a leisurely visit to France at this time when, in France, even to go out of your lodging for food shopping and medicine, you must carry with you a special permit. So visiting France through the pages of Victoria magazine is even more special than in previous years.
Retreat to a quaint cottage in Burgundy's countryside. Seems like a lovely place to Shelter-in-Place. Or châteaux if you want a bit classier abode. And we of Chic & Slim are well familiar with "the charm of French style."
Those of us limiting our shopping for fresh produce out of concerns for our safety, might find inspiration for planting a garden in the magazine's article Frais du Jardin.
In my teatime reading I hope to find "a serene sanctuary in blue and white of Timeless Toile."
So for today's tea to accompany the magazine reading, I poked around in my china cupboard for tea things with the blue and white color scheme that predominates in this special issue. My roses helpfully chose to open their first buds this morning to add some floral accent. I know the magazine cover shows tulips, but we are long past tulip season here at Provence-sur-la-Prairie.
The lady fingers, by the way, are Natural Nectar Lady Fingers: Biscotti Savoiardi baked in France. The tea is French, of course: St. Dalfour in a St. Dalfour mug, no less.
A lovely special French issue of Victoria. I am looking forward to today's tea enjoying all its delicious articles and photographs.