|| 14 August 2023
Update: Clothing for Extreme Heat
In the previous Nouvelles, I covered two of my strategies to survive the extreme heat we have been having here at Provence-sur-la-Prairie. Cool cotton clothing and shade for my garden and house. In response to the posting, Karen in Rosemount emailed a suggestion (with image) of linen pants that she has found comfortable for the unusually warm summer they have been having in Minnesota. (Merci, Karen)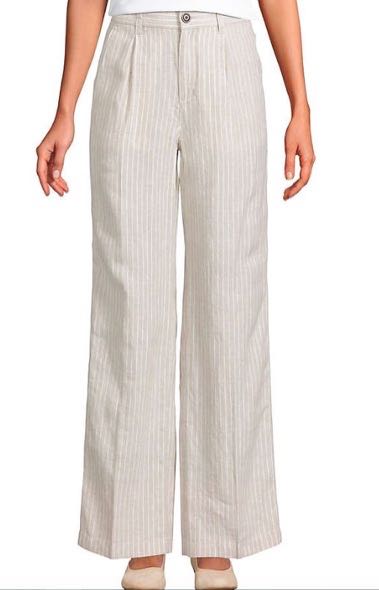 image: linen pants comfortable for warm weather
These pants are from Land's End, and Karen also included a link. By the time I checked the catalog page for them, the pants had gone on 40% discount. And they were selling fast.
You can read more about the pants on Land's End.
be chic, stay slim — Anne Barone
---
|| 10 August 2023
Best Clothing For Extreme Heat
In the previous Nouvelles I wrote about several of my strategies for dealing with the extreme heat we have been having here at Provence-sur-la-Prairie. One of those strategies is to wear light-weight loose-fitting 100% cotton clothing.
My latest acquisition in this category is the dress you see below. This one is light weight 100% Indian cotton.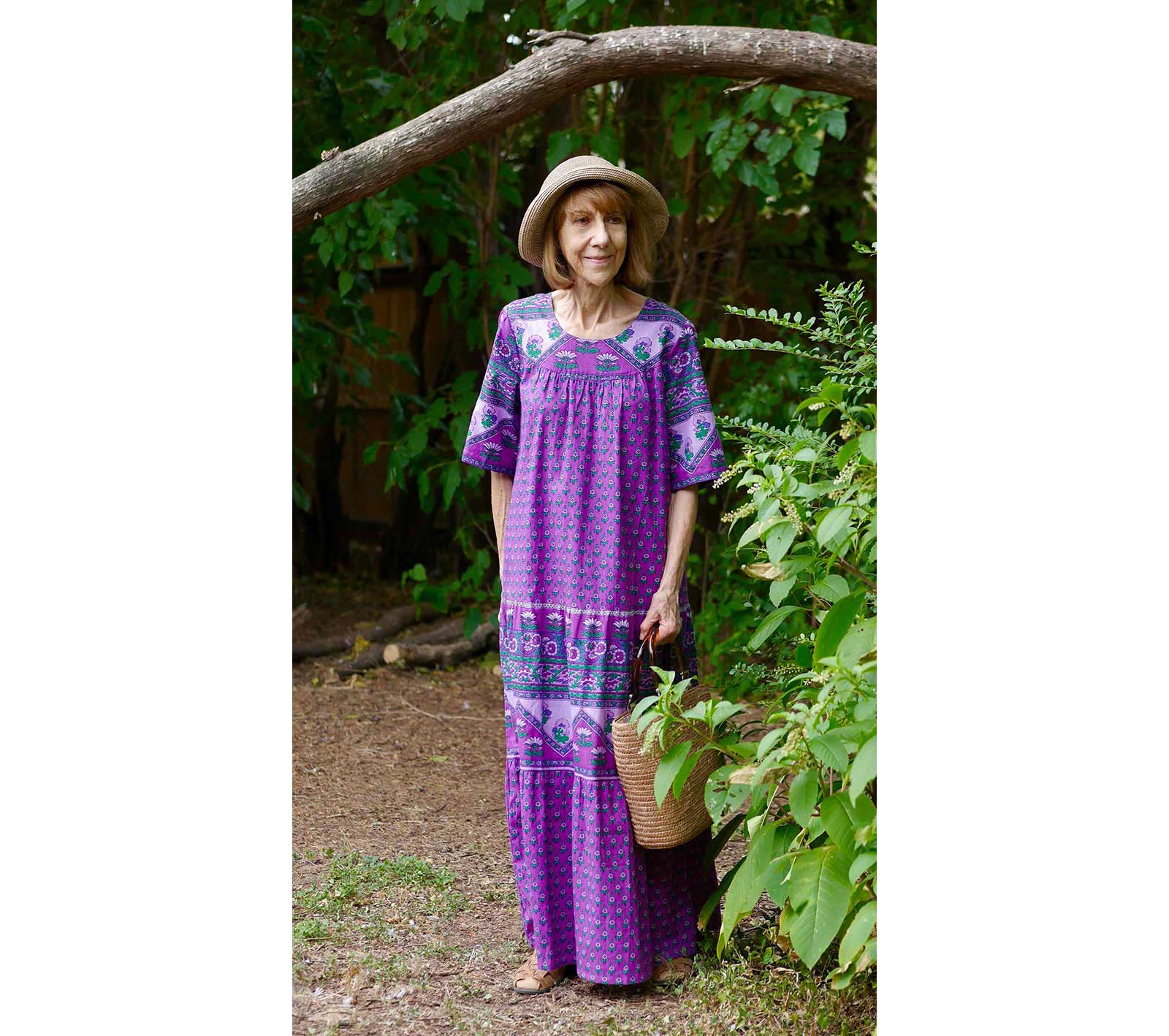 image: Anne wearing new 100% Indian cotton dress.
I learned to appreciate the comfort of this type of cotton in the years I lived in India and kept a little tailor busy sewing various items of hot weather clothing from it.
This dress I purchased from The Vermont Country Store website. This style the store designates as a "muu muu" comes in this ankle length — as well as calf and knee lengths. The ankle and calf lengths have friendly-to-certain-age-arms elbow length sleeves. The knee length has short sleeves. There are four color choices.
Shade
Good shade can make a great difference in how hot your house becomes under the onslaught of the sun. And consequently make a great difference in your summer electric bills.
When my neighborhood was established some 97 years ago, this was pastureland on the edge of the city. To give shade, the west side of each property was planted with 50 cedar trees that also protected from the winter winds. My property is one of the few where those trees remain. I have 33 of my original cedars still living.
But a couple of years ago during an especially heavy rain, one of the tallest cedars keeled over. Its top branches settled on the ground. Its roots remained in the soil.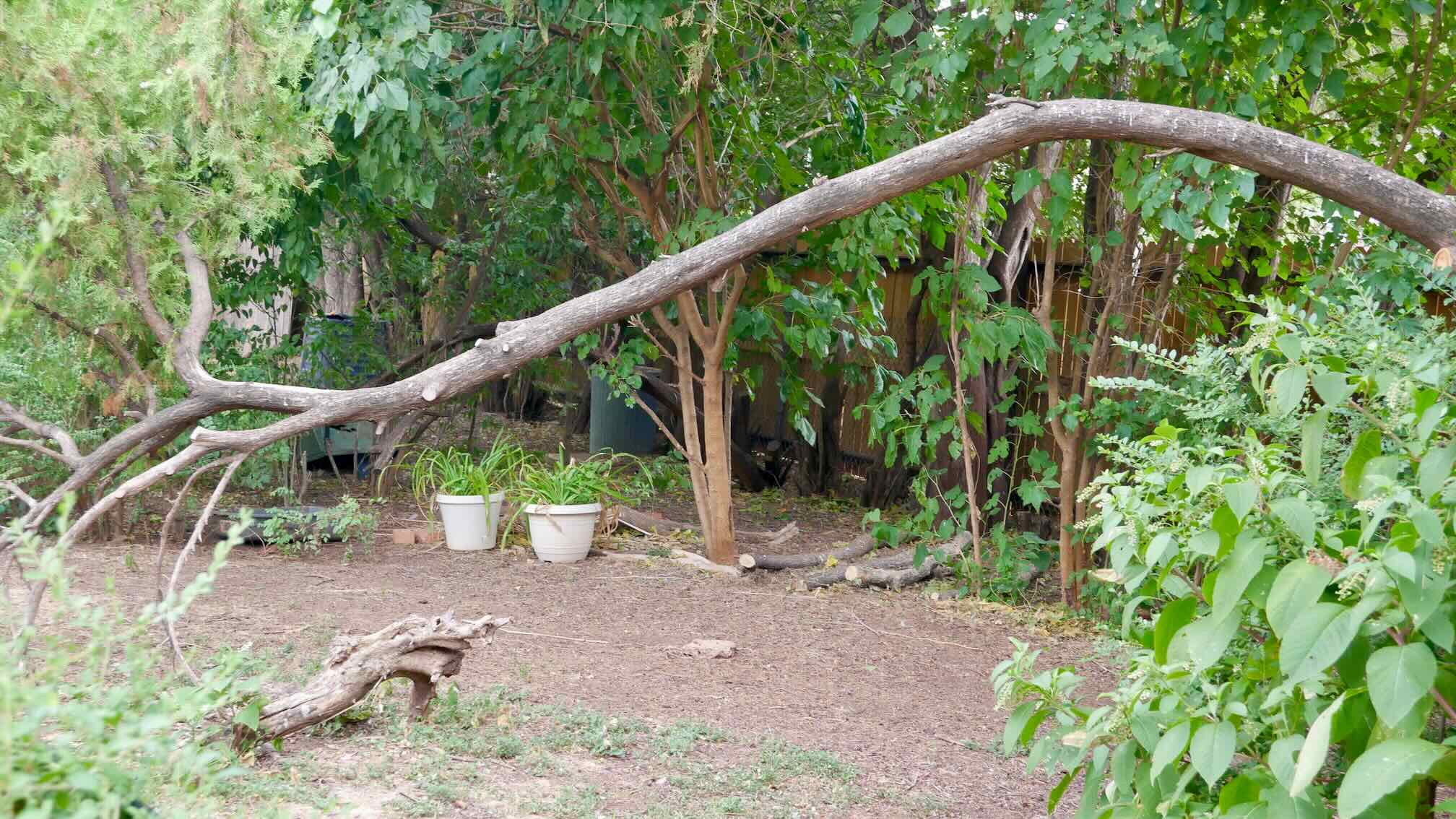 I thought the arch made by the fallen cedar made a nice addition to my landscaping. In the photo lower left you can see that I trimmed some of the upper branches to make supporting feet. The rest I left to grow into an aerial shrub.
To the left of the potted daylilies, behind some greenery, is a rectangular pan that I put out as a bathtub for the baby raccoons when they were around. They were so cute taking their nightly bath. Now the pan is mostly an auxiliary birdbath. And the shade under those old cedars gives nice protection from the afternoon summer sun.
Note: Yesterday I needed all the extreme heat survival strategies I could muster. About 2:45 PM, just as the temperature reached 112 F. (44 C.) we lost electrical power. It was not restored until after 5:00 PM. Actually, thanks to my various Extreme Heat strategies, I was not too uncomfortable during the 2 1/2 hours with no air-conditioning. But I am looking to invest in a battery-powered fan.
be chic, stay slim, stay cool — Anne Barone
---
|| 6 August 2023
Surviving Extreme Heat
Our extreme heat continues. 108 F. (42 C.) today. After a brief respite tomorrow with a forecast high of only 100 F. (38 C.), it will be back in the 107 — 108 F. range for the forecastable future. Not fun. By late afternoon my air conditioners are struggling. And I am cranky and lethargic.
In the photo above you see the only surviving bloom at Provence-sur-la-Prairie. Too soon it will be in the same state as its sister on the left.
How to survive extreme heat?
Stay hydrated with with cool beverages, preferably water.
Wear light-weight, loose-fitting 100% cotton clothing.
Eat lots of salads. So cooking does not add to household heat with which the air-conditioning has to cope.
Bamboo blinds on three sides of the roofed back patio block sunlight and keep that side of my house cooler.
I also have made insulation panels for my windows that stop the heat exchange of the glass panes — especially helpful when direct sunlight is hitting the window.
My brother has another idea for coping with our heat. He is heading for an Alaska vacation. Morning temperatures around 52 F. and afternoon highs of 65 F. Sounds nice. But here we bake.
be chic, stay slim, stay cool — Anne Barone