|| 5 January 2023
Comparing UK and European Christmases
Christmas Day I emailed our Chic & Slim Special Correspondent Kat to wish her Merry Christmas. Kat in London is six hours ahead of me here at Provence-sur-la-Prairie. When my email arrived, Kat was coming to the end of her Christmas Day. I also said in my email I hoped she had enjoyed a pleasant day. My simple statement inspired Kat to write and send a lengthy comparison of Christmas in the UK and in Europe. As always, much thanks to Kat for her photos and information. Kat wrote:
Yes, I've had a nice, quiet day, starting with tea and a home made sausage roll for breakfast, followed by presents, a walk by the river and a turkey sandwich for lunch, the King's speech and then an hour's read on my bed. Which brings me to something you might like to share with the Baronettes: the advantages of doing Christmas French (and, indeed also, European) style. I'm not talking about the food here: we once spent Christmas in Normandy, with goose and Yule log instead of turkey and Christmas cake, and I have no desire to repeat the experience. The Anglo Saxons really GET Christmas, but . . .
A typical British Christmas goes much like this:
For the religious, and those who just like carols, it's midnight service, which means no sleep till about 2am. The cook designate has to be up and into the kitchen by 8am latest: food needs to be on the table at 2pm.
Meanwhile, for country dwellers, after present opening, it's off to the pub for a beer or two, and, for townies, hanging round the kitchen nibbling nuts, crisps and whatnot, and drinking Bloody Mary's and Bucks Fizz until it's time for lunch.
Lunch consists of turkey and all the trimmings (Brussels sprouts, roast potatoes, bread sauce, gravy) followed by pudding and custard or brandy butter, followed by cheese. Wine is usually served. Traditionalists bolt the lot down in an hour, in order to watch the Queen's (now King's) speech live at 3pm, whilst nibbling on chocolates or whatever goodies the thoughtful host will have left in little bowls around the house. The less traditional linger at the table where there is sure to be a cheese board and perhaps a bottle of port.
After all this a bracing walk would be an excellent idea, but it's 3.30 by now and growing dark, and nobody has the energy. Board games are half heartedly played until someone switches on the TV, and the company settles itself down for an evening of what passes for entertainment these days. Accompanied by a few more glasses of whatever remains in the bottles, and a turkey and stuffing sandwich or two to soak it up. By bedtime, everybody is comatose, except for whoever got stuck with cleaning up: after that's done, he or she will also hit the bottle.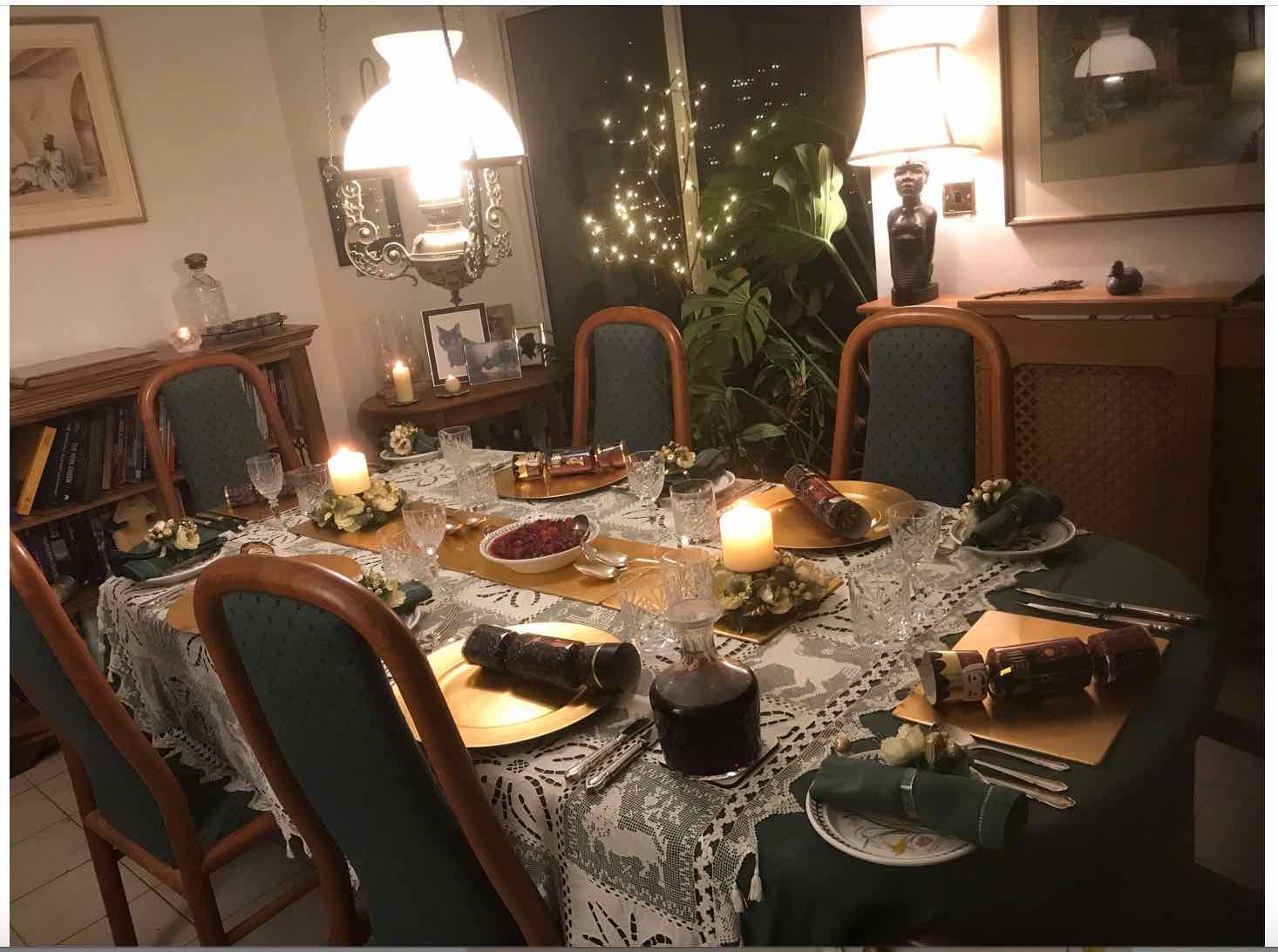 Image: Special Correspondent Kat's Christmas Eve dinner table 2022
By contrast:
Christmas European style starts on the morning of Christmas Eve. Unless this falls on a weekend, the family and guests will all be at work, leaving the cook designate (who will have taken the day off) the run of the kitchen. There is no time pressure: feeding time is around 6 pm, later if midnight service is on the cards.
Family and guests arrive an hour in advance, and enjoy a glass (or two) of champagne, accompanied by an amuse-bouche of some kind (chez moi it's a homemade mini sausage roll and an anchovy eclair). Then it's on to the turkey and all it's trimmings, followed by little filo pastry "crackers" filled with homemade mincemeat, and a dab of mascarpone and rum cream. One cracker apiece. Then a cheeseboard, bien sûr. Wine with the meal. No port. Then it's off to church for the churchgoers and off home for the guests. Cleanup and bed for the hosts.
A bonus: public transport is still running. Another bonus: everything Christmassy looks so much prettier in the evening (see photo above). And if you live in the Southern Hemisphere — as I did, growing up — a roast dinner when it's 40 C in the shade is beyond horrible (although my Australian friends tell me more people are turning to seafood now, that's hardly Christmassy)
Yet another bonus: instead of a whole day spent eating and drinking nonstop, such activities are confined to a few hours in the evening. Mostly while sitting at a table.
Further advantages of Christmas Eve:
If there are children, count on them becoming more and more fractious as the midday meal drags on. Instead, their present opening can be Christmas Eve, and hopefully this will keep them entertained until the adults sit down to their evening meal. Older children join in, younger ones get a tray in front of the telly (special treat kept only for high days and holidays at my house) before being packed off to bed. Thus avoiding 5am assault on sleeping parents by kids demanding gifts on Christmas morning.
And of course, for the religious who don't attend midnight service, Christmas Day morning is now free from cooking chores, enabling even the designated cook to attend Christmas Day services.
Christmas Day
But what about Christmas Day, you ask? Won't it be a dreadful anti-climax? Well, no. After a leisurely late breakfast, presents are opened, then, weather permitting, a long walk. In the country if country is available, if not, there are always the (closed ) shops with window displays you can actually see, because there is nobody in the streets. Parks are likewise empty, apart from the odd jogger or dog walker. Then it's back home for a turkey sandwich lunch, board games, conversation and maybe some pre recorded TV accompanied by a nice glass or two of something, until it's time for bed.
Now I realise, that for many people either of the above scenarios are beyond their means. Beyond their wildest dreams, even. Which is why I always include a couple of people who would otherwise be spending Christmas alone, and frugally. My best Christmas of all was when a number of my daughter's university friends couldn't get home for the holidays due to last minute cancelled flights. I think we were 15 at table that year, and sleeping bodies covered all available floor space next morning. Thank the Lord the turkey is a big bird!