|| 7 November 2019 — UPDATE to 4 July Nouvelles
Why Most Americans Don't Eat French — and why they might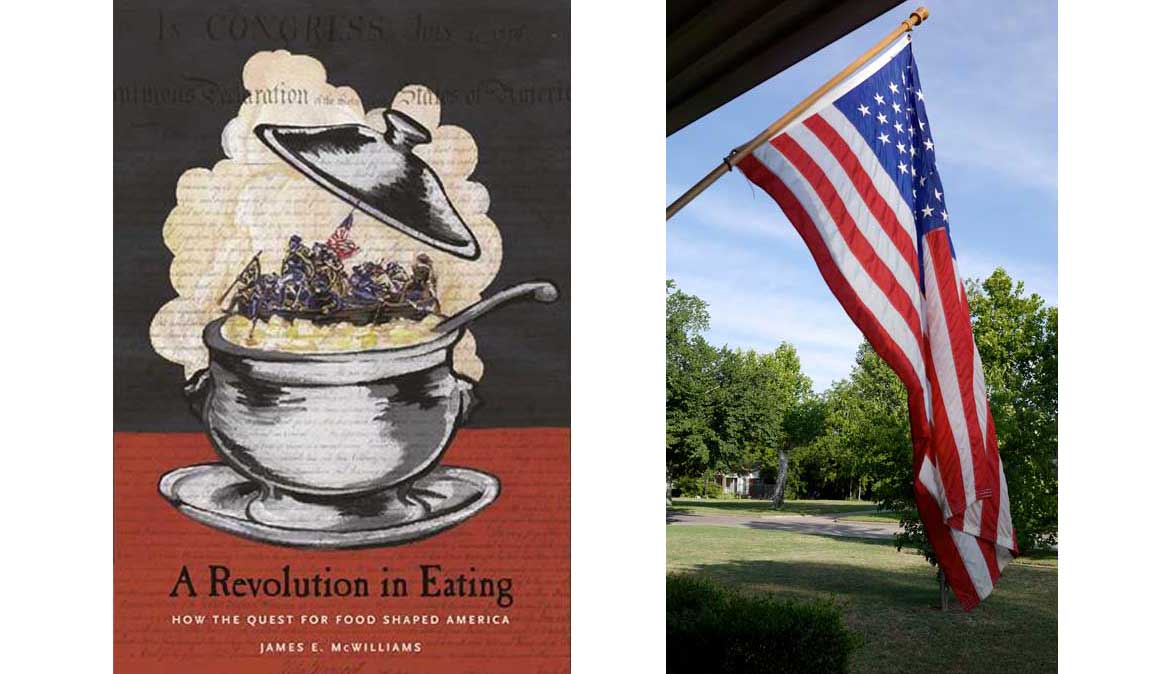 The 4 July Nouvelles (below) celebrated the American Independence Day holiday introducing you to James E. McWiliams' book A Revolution in Eating: How the Quest for Food Shaped America. As someone who has written often about French food and French styles of eating, I found interesting the author's discussion of why it might have been expected that the new American nation would adopt French foods and manner of eating as they rejected that of the British from whom they had won their independence — and why they did not.
In Chapter 8 of A Revolution in Eating, in the section "Defining an American Food" (page 309 in the hardback), the author writes that: "The development of a unique American cuisine began with an angry rejection of English culture and, afterward, a polite refusal of French food."
James McWilliams continues with an explanation of why Americans might have been expected to adopt a model of French food. He assures us that there were "plenty of reasons to do so."
The Americans and French had been loyal allies during the Revolution; Jefferson had become an inveterate Francophile during the war; and the French were gearing up to fight a revolution of their own based on principles adopted from the Americans. A cultural connection of sorts therefore existed.
But evidence that despite the appeal of French food to America's first four presidents, French gastronomy would go virtually nowhere in early America. The more Americans came to misunderstand and dislike French food, the more they came to understand what their own food was about.
The American rejection of French food was, two historians of American food write, "by no means the only demonstration in American history of the curious fact that in America it is politically disadvantageous to be known as a gourmet, as though there were something unmanly in being discriminating about, or even attentive to what one eats."
And though, for a few too-brief years, Julia Child, Jacqueline Kennedy and others would change Americans' minds about French food, today, as a general attitude, Americans are back where they started. Except some of us. Bon appétit !
— Anne Barone
---
|| 4 July 2019
A Revolution in Eating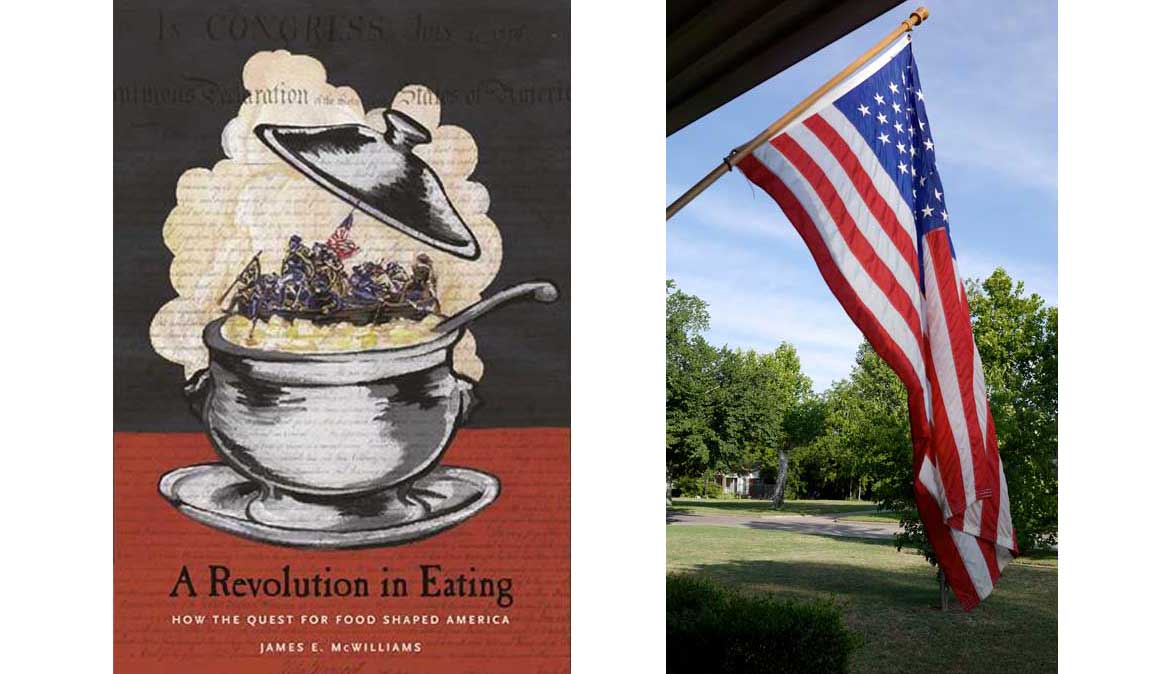 When the colonies that became the United States of America declared their political independence, what followed was a declaration of independence in eating. Actually, from the time that the colonists arrived on those eastern seacoast shores, they had had to find new ways of producing and preparing new foods in order to survive.
The best history of that American food independence and how a new way of eating developed in the United States is A Revolution in Eating: How the Quest for Food Shaped America. The book published by Colombia University Press was written by James E. McWilliams, associate professor of history at Texas State University-San Marcos.
Here is what the book jacket tells us about the book:
Sugar, pork, beer, corn, cider, scrapple, and hoppin' John all became staples in the diet of colonial America. The ways Americans cultivated and prepared food and the values they attributed to it played an important role in shaping the identity of the newborn nation.
In A Revolution in Eating, James E. McWilliams presents a colorful and spirited tour of culinary attitudes, tastes, and techniques throughout colonial America.
Victory in the American Revolution initiated a "culinary declaration of independence," prompting the antimonarchical habits of simplicity, frugality, and frontier ruggedness to define American cuisine.
McWilliams demonstrates that this was a shift, not so much in new ingredients or cooking methods, as in the way Americans imbued food and cuisine with values that continue to shape American attitudes to this day.
AnneNote: The beginning chapter or so of this book is NOT tea reading. What and how the earliest colonists ate is not appetizing. But the book is a detailed and fascinating account of how the particular way of American eating developed that was so different from what the colonists had eaten on the other side of the Atlantic.
When we celebrate Independence Day 2019 today, we are celebrating both our political and eating independence. Though I am not sure that those patriots who fought and died for that independence really had all today's junk food in mind.
Happy 4th of July!
be chic, stay slim — Anne Barone