|| 3 September 2023
Assembling Exerwork 7150 Exercise Bike
Mental decline is a common problem in ageing. To combat this decline, one of the recommendations is to tackle new and challenging activities. My brain (along with other parts of me) did get a workout as I tackled the assembly of my new exercise bicycle with desk.
You have a better chance of reaching your destination if you have some idea how you are going to get there. As I do with all except the simplest of projects, I gave some thought before beginning the work. The Exerwork 7150 Exercise Bike comes unassembled. The box I somehow managed to drag from the front porch into my living room weighed 76 lb. (34 kg). Nestled into foam padding were the parts of the bike, and the tools I needed to put the bike together. The accompanying illustrated instruction book is better than average. The parts of the bike are well made. Nevertheless I knew I was in for a LOT of work.

I began the project spending some time studying the instruction book, familiarizing myself with the tools and parts. What on earth is a spring washer? Which one of these metal things is a carriage bolt? I decided when and where I would do the work: my living room with the furniture pushed back against the walls and a dropcloth down to protect the carpet.
I could not have done as well as I did had I not found a very good YouTube video that showed the assembly of this exercise bike. That said, on the night of the second day's work, when I thought that I had the bike ready to ride, I discovered I had two parts left over. Uh-oh.
So I had to backtrack, remove the computer desk, wait until the next morning when my brain was fresher, reread the instructions (about six times) then redo the last of the six steps.
The bike does give a good workout to my legs, but unfortunately the desk, even at it lowest setting, is too high for me to write on the computer comfortably while I ride the bicycle. The bike is designed for those 5 ft. 1 in. to 6 ft. 3 in. I am on the low end of those parameters. Plus I have shorter than average legs for my total height. I will have to devise a solution to the desk height problem.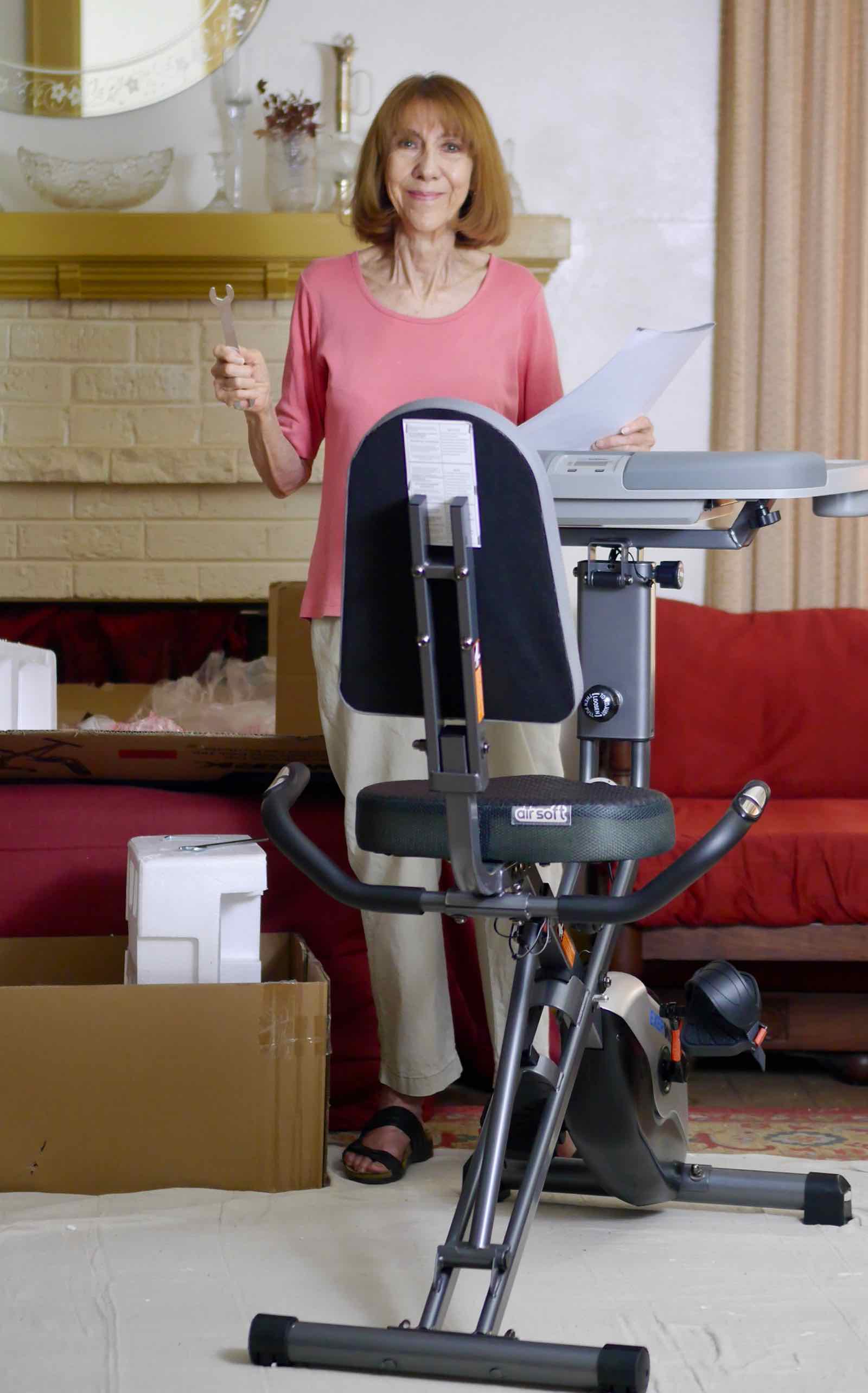 image: Anne Barone with wrench and instruction manual happy at having successfully assembled her Exerwork 7150.
I am not sure how much I slowed the cognitive decline of my 79-year-old brain with this project. But when finished, I did feel a deep satisfaction in successfully getting the bike properly assembled. In hindsight, however, if I had known about "under the desk" exercise bikes before I bought this Exerwork 7150, I could have saved myself a lot of work — at about half the price.

be chic, stay slim — Anne Barone