|| 19 February 2017
The Century Quilt
A Dresden Quilt Begun By An Oklahoma Homesteader And Passed On To My Grandmother And Then To My Mother Is Finally Finished Almost 100 Years Later By An Oklahoma Artist
Almost 100 years. The quilt you see above was begun in 1915 on one Oklahoma farm and finally finished on another in 2012. In that almost a century's time four generations worked on the quilt.
The Broadway and Hollywood musical Oklahoma! is set on the eve of 1907 statehood. A few years later, an Oklahoma homesteader, much like Aunt Eller of the musical began a quilt in the Dresden pattern. When she died sometime in the late 1930s, the quilt top was unfinished.
A large box containing that quilt top, other unfinished quilting projects and her "quilt scraps" (pieces of unused fabric that could be used to make quilts) was given to my grandmother by the homesteader's daughter. Daughter was a businesswoman muxh too busy with oil leases and such to quilt.
My Grandmother Works On The Quilt Project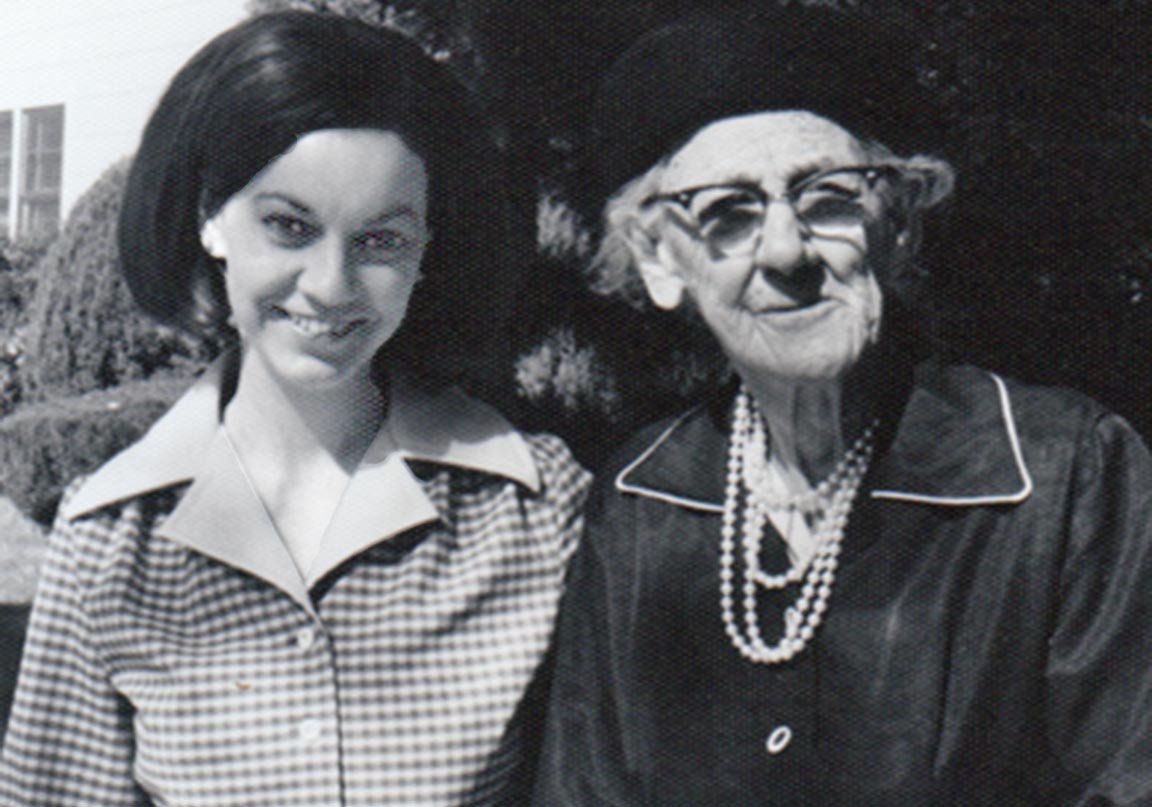 Photo: A snapshot taken in the early 1970s of my grandmother and my artist friend Joyce who finally completed the project.
Sometime in the 1950s, my grandmother, then widowed and in her early 70s, brought the box of quilting materials down from the attic and set about to complete the quilt begun 40 years before. I remember that day well.
A chilly autumn afternoon, I had walked from school to my grandmother's house in the rain. Then, seated in front of the fire sipping a cup of hot chocolate, I began to explore the contents of the box that my grandmother had been sorting through. What interested me were the old fragments of 1915 newspapers to which the quilt blocks had been cut and sewn. An article warning the Lusitania not to sail (it would be sunk a few days later on 7 May 1915 by a German U-boat). Another article about proposesd surgery for the French actress Sarah Bernhardt.
When my grandmother took over the quilt project, it consisted of numerous blocks made up of six pieces cut from different fabrics sewn together. Eventually these blocks of six would be sewn together to form the rings. The green borders (sashing, I think is the correct term) had been cut. There were not enough of the sewn together strips of printed fabric for the circles. That was not a problem. My grandmother could cut and make more. Helping my grandmother, I even sewed a few of them myself.
The problem was that there was not enough green fabric for the borders (sashing) to make a quilt.
A leitmotif of my childhood was my grandmother's search for matching green fabric. Fabric stores were searched. Friends arrived at my grandmother's house bearing pieces of fabric they were sure were a match. They weren't. Somehow, no piece of green fabric was ever found that was close enough to the original green fabric to be considered acceptable.