|| 13 October 2022
Chic Parisienne 80+
Our Chic & Slim Special Correspondent Kat is back in France. In Normandy. But when shopping she often spots chic Parisiennes there for the weekend. Hardly had she arrived than she spotted the woman in the photo below. Kat wrote:
The Parisiennes are in town! As soon as we arrived in Pont-l'Evêque, I noticed that there were a number of Parisiennes around, shopping for their evening meal, as we were. They are unmistakeable. Even dressed for the country they are amazingly chic, and their accessories and hair are always perfect.
This one, pictured in the town's best boucherie, is a good example. I would put her age at 80+, but no "old lady" clothes for her! That red gillet was stunning. Unfortunately, the angle of the photograph makes her look shorter than she actually was, and also a bit overweight, but I can assure you she was neither. And here it is again, the perfect Parisian bob.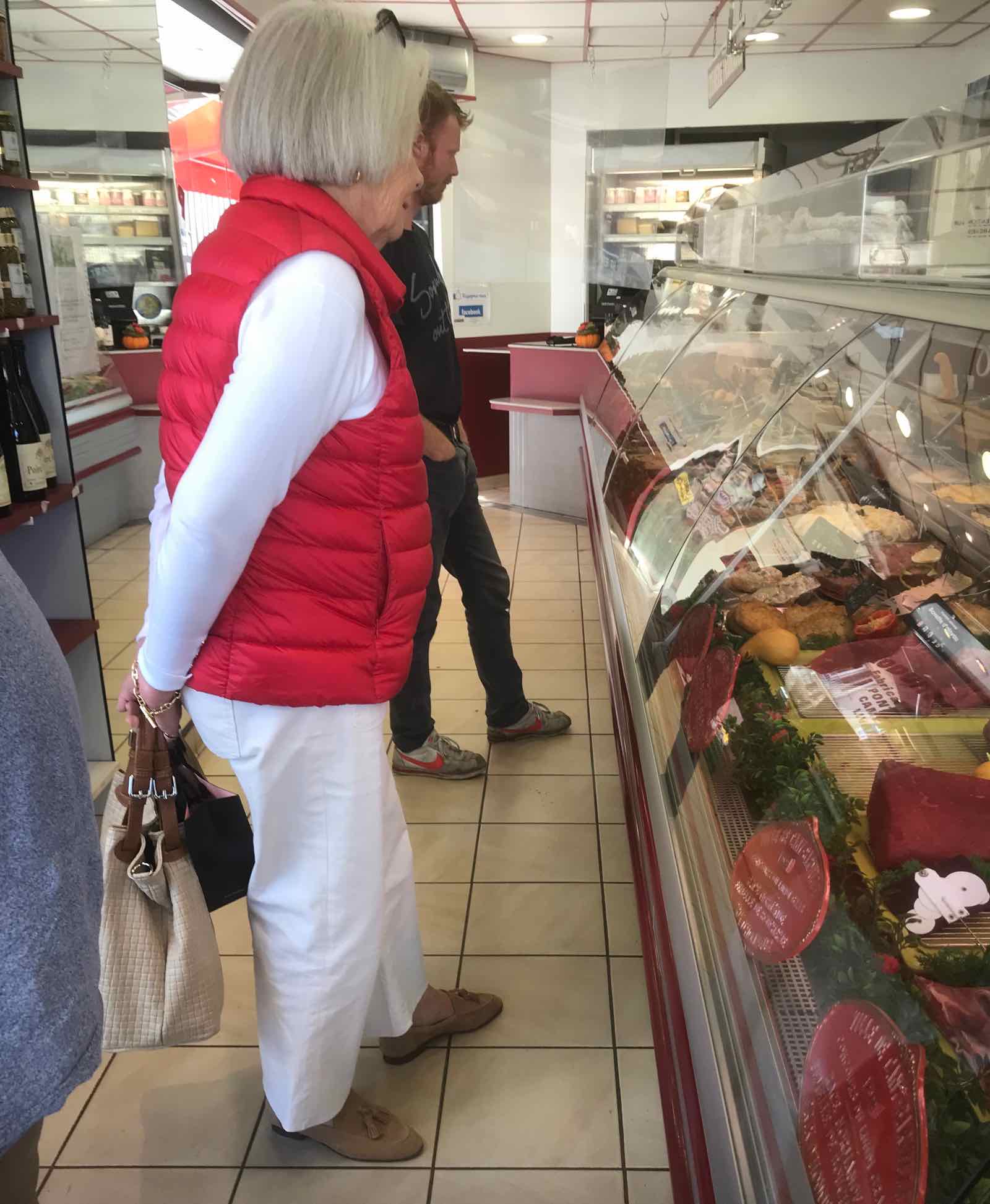 Image: chic certain age Parisienne shopping
Kat added:
Apart from eyebrows and a light coat of red lip gloss to echo the colour of the gillet, the lady wore no makeup at all. Her skin was very fair, and lightly webbed with fine lines, (which is how I was able to guess her age) but not an age spot or freckle was to be seen. I'd guess she was wearing sunscreen! She looked fresh, casual and elegant.
---
AnneNote: Even though it is early October — and obviously a bit chilly in Normandy as evidenced by the red vest — the woman is wearing a top and pants in white.
French women don't seem to have a problem with wearing white when the weather cools. Though in the USA, for many, white falls into the category of "not after Labor Day."
The woman's beige handbag with its dark brown leather straps is transitional, but her tan suede tasseled loafers are definitely in the cooler weather category.
Other things to note: her small gold hoop earrings and gold chain bracelet.
As someone who is struggling to keep her posture straight when aging plus a lot of time spent at the computer are rounding her back, I noted a neat little trick the woman used to keep her back straight while standing waiting her turn at the meat counter. She is holding her handbag and shopping bag behind her. The weight of those two items pull her shoulders down and back and prevent the natural tendency to curve forward. It is a technique I intend to put into use in situations where it is not necessary to keep a close watch on whatever I am carrying.
As always, much thanks to Kat for her photos and information.