|| 14 June 2018
Freak Storm, Lost Tree
Last week, in a stealthy middle-of the night storm, Provence-sur-la-Prairie lost its largest sycamore.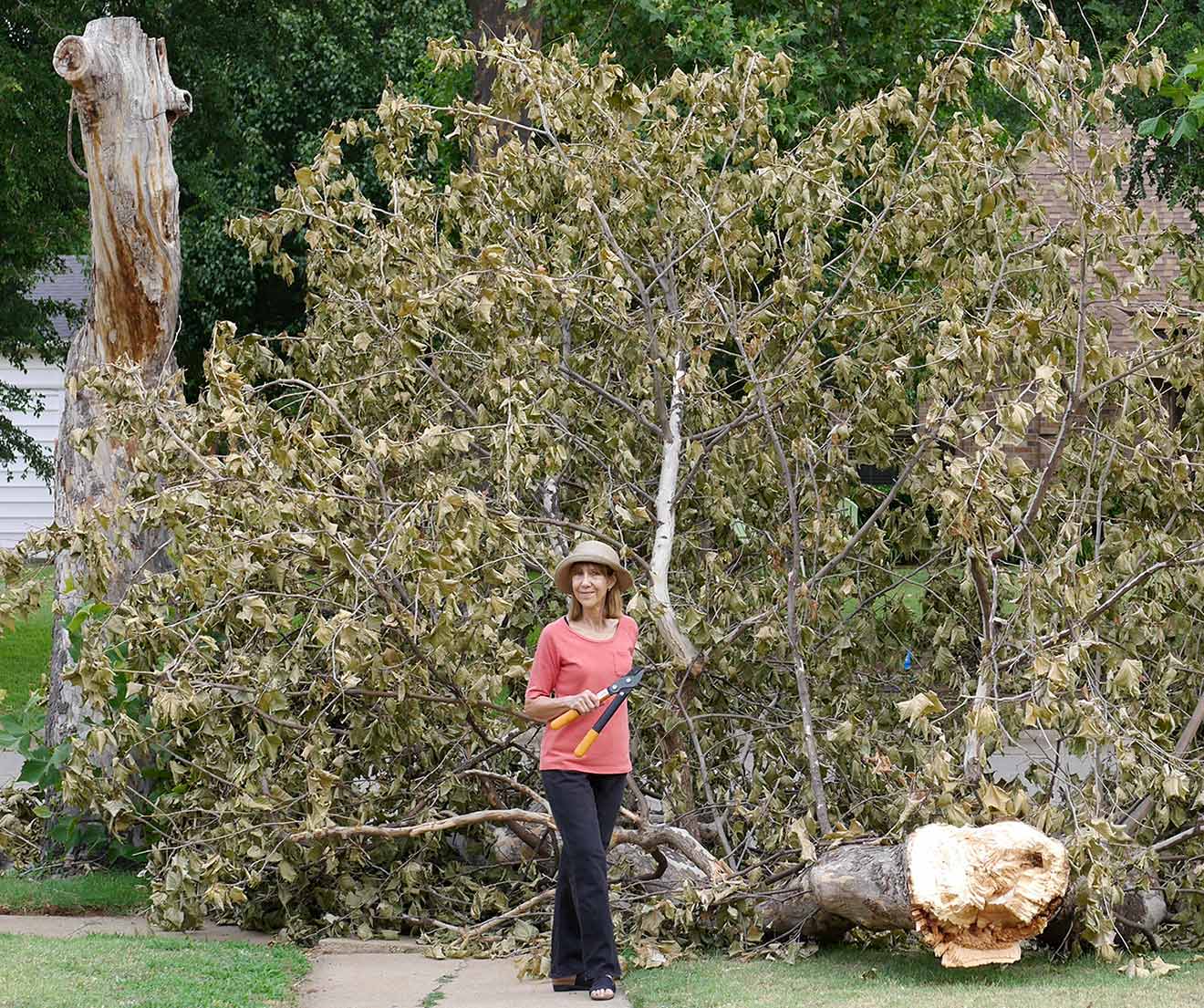 image: Anne with damaged sycamore
The next day, as we surveyed the damage, everyone was saying what a strange storm it had been. How odd that almost no one was awakened by the storm. Yet we woke to much damage.
The previous evening between 8:30 and 9:30 PM we had one of those noisy, flashing, late spring electrical storms with the rain pouring, the thunder banging, and the lightning streaking. Then by bedtime, everything was calm and quiet.
It was while we all slept that the major damage was done.
When I woke the next morning it was to find bizarre destruction that followed a direct line from the back of my property to the front. Fence and plant damage along the line, but there in the front of my property my oldest and biggest sycamore was broken off about ten feet from the ground. The trunk stood topless. All the branches and leaves were in the middle of the street. Blocking vehicle traffic, of course.
The break at the trunk measures 22 inches (56 cm) almost two feet in diameter. I was surveying the damage and wondering how I was going to get that huge top of the tree out of the street when help arrived. A kind neighbor and two of his workmen arrived in a big truck, hooked a heavy chain between the huge tree top and the trailer hitch on the truck and pulled top of the tree out of the street onto my property.
Sadly, the old tree was beyond salvation. Yesterday the tree service company, the one I used previously to take out the cedar the drought killed, removed the damaged sycamore. Three men worked over three hours before it was all cleared away.
I am having difficulty adjusting to the tree gone. I miss its beauty and its shade.
be chic, stay slim — Anne Barone
Chic & Slim Toujours 2: More Aging Beautifully Like Those Chic French Women
Kindle Version on Amazon USA
Kindle Version on Amazon UK
The Kindle versions have long samples you can read.
Print Book at The Book Depository - Ships Worldwide