|| 24 July 2022
Kat in Paris - Report 1
Our Chic & Slim Special Correspondent Kat has recently visited Paris. Here is her first report.
It was great to be in Paris again, after more than three years. It seems to have survived Covid pretty well: Fouchon, the large and fabulous speciality food store near the Madeleine has gone, which was a shock, and so has Hotel Costes, so no opportunity to sample its legendary salad. Despite the 30+ degree heat, the place was buzzing, and I even stumbled upon a photo shoot - as you'll see from the picture. This thin is not what we are aiming at!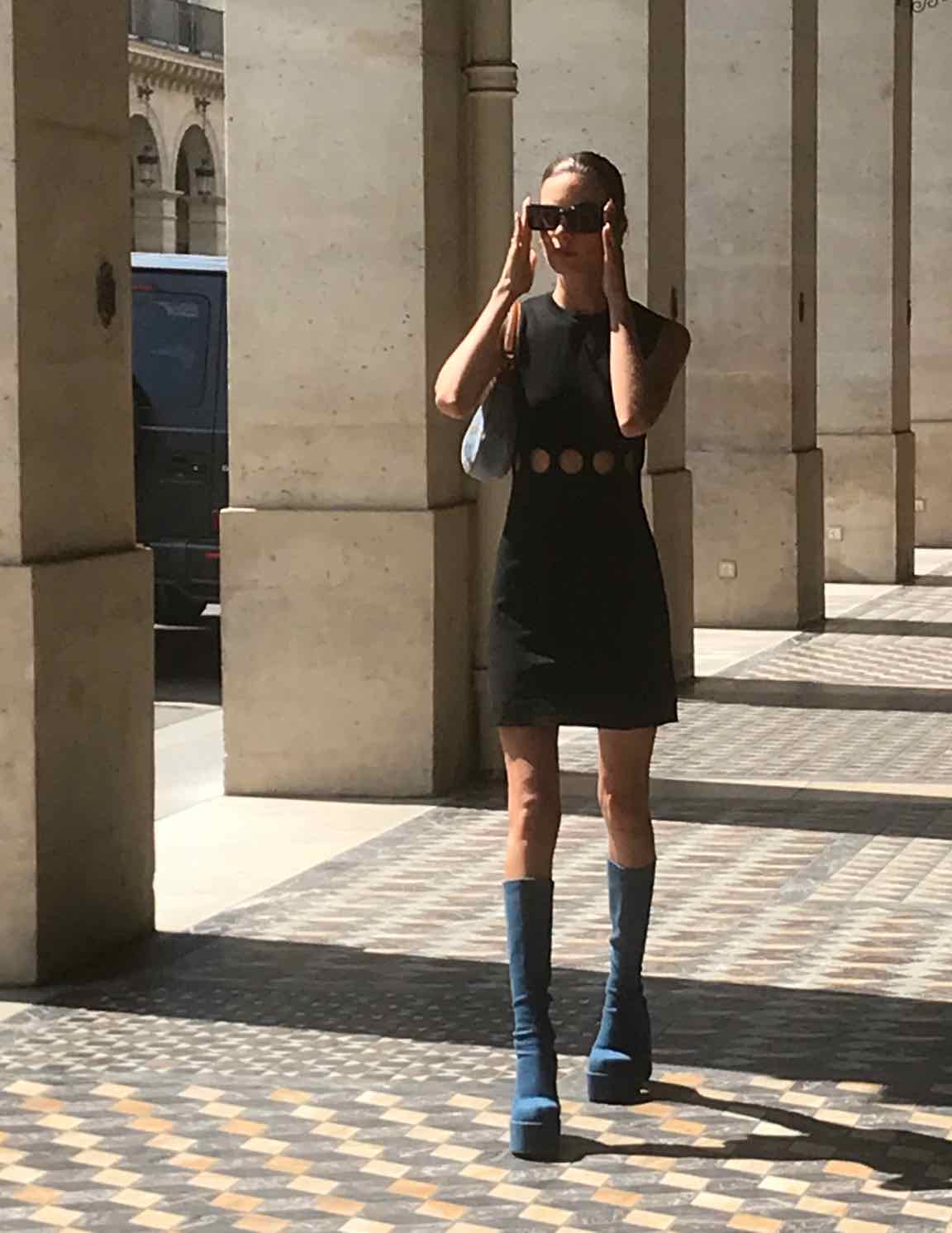 Image: Ultra-thin professional model posing for a photo shoot in Paris, July 2022..
If I had parked myself on a bench outside Printemps or Galleries Lafayette for the day I would have been able to supply you with a year's worth of Nouvelles materials. I couldn't believe how many chic and slim women were out and about on such a hot day, and how cool and well groomed they looked. The trouble is that, heat or no heat, they move fast! I pursued a beautifully dressed girl up the escalator in Printemps, only to lose sight of her at the top!!
I'm going to send you the images I did manage to capture in instalments, but it's worth mentioning that nowhere did I see the statement red lip the media are forever mentioning in connection with French women. Maybe they're saving that look for winter. The maquillage I saw was subtle, and neutral. Hair was beautifully cut, lots of bobs, updos and soft waves, nothing complicated. And, apart from on the flocks of teenage girls, the only shorts I saw were part of a tailored suits, and the legs they revealed were worth revealing. Parisian women don't bare much skin in public (I saw one lovely exception, which I'll describe in a later email).
I visited Maille, in search of mustard, and obtained a jar of the grain kind, they were selling the plain variety only from the pump, and only one pot per customer, which they said would enable them to keep supplies coming throughout the summer. Contrary to what I read in the press, they said Ukraine is not part of the problem. At Maille, they use FRENCH mustard seed, grown in FRANCE, topping up supplies from Canada only when necessary. Unfortunately, a severe frost damaged the crop this year. "So, you'll still be able to make celeri remoulade? " "Bien sûr!"
Of course, women everywhere were wearing sunglasses, and there are so many wonderful French brands to chose from. But no fewer than three women asked me where I got mine (the ones I'm wearing in the photo I sent you). When I told them Cutler & Gross in London, they asked if it had a website. It seems that French women are always looking for something just a little bit different!
---
As always, much thanks to Kat for her photos and information.