|| ? August 2022
Kat in Paris - Report 5
Our Chic & Slim Special Correspondent Kat has recently visited Paris. Here is her fifth report.
Dear Anne, You have repeatedly made the point that French women do not do "matchy-matchy" and you're quite right. The green and yellow Paris window I photographed for you was put together to create a harmonious visual display, which it certainly achieves. I can't see any French women wearing the dress and accessories as presented. Much too predictable.
But that's not to say French women don't do coordinated. There is a huge difference between matching items exactly (by colour, fabric, whatever) and putting together items which harmonise.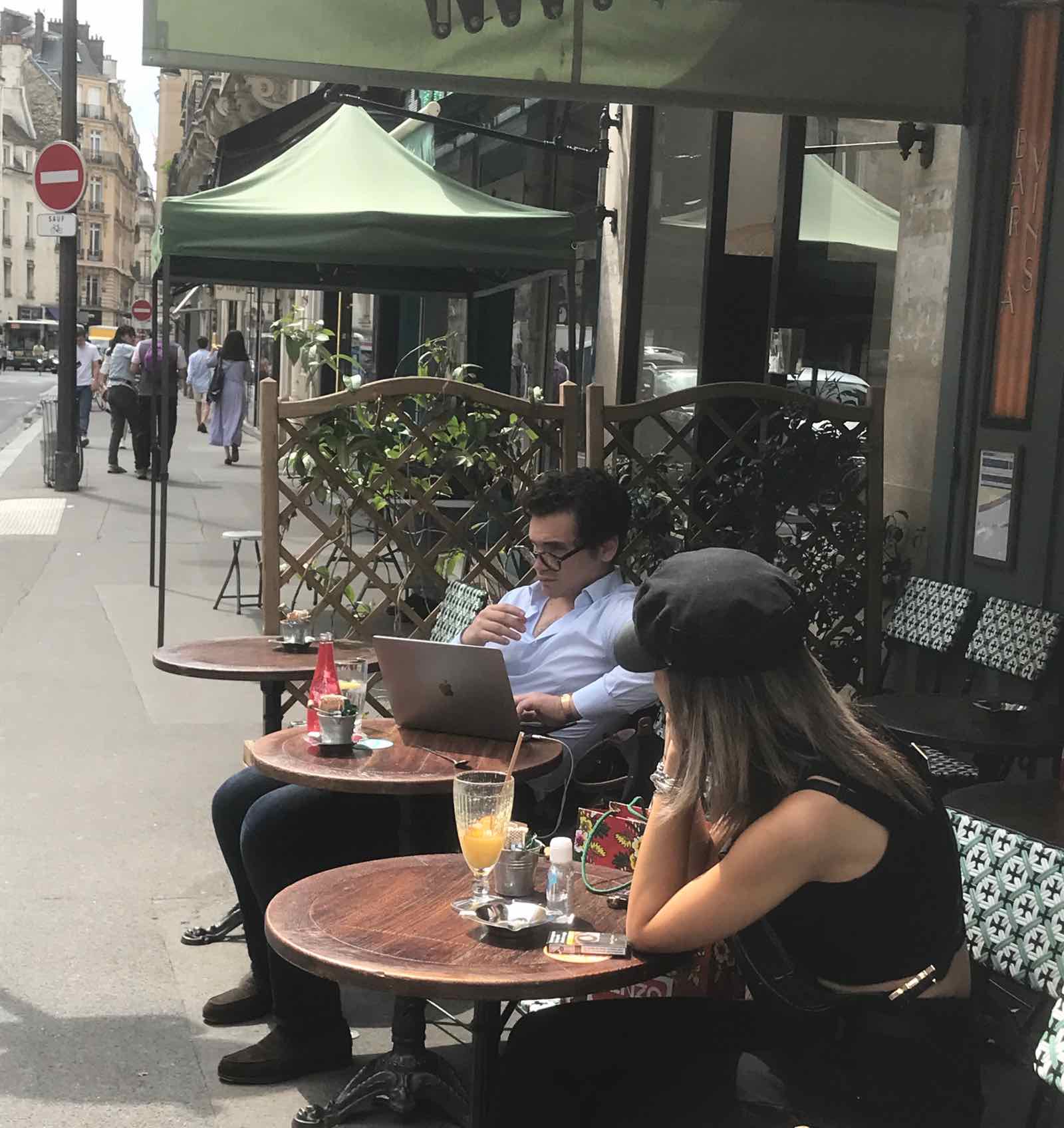 Image: Our correspondent did not see many women wearing hats in Paris, but the young woman in the black butcher's boy cap reminded her of the young Françoise Hardy.
The girl in the cafe wearing all black (in summer! French women often do this) has chosen to combine slim fitting capri pants (cotton, not Lycra, trust me on this!) with a stretch cotton crop top. She's in perfect shape, as you'll see by her arms, and she's not baring too much midriff. She looked very like the young Françoise Hardy, and the pièce de résistance is the black butcher's boy cap.
I didn't see many hats in Paris, there were a few Panamas, like mine, but mostly heads were bare. Of course, in Paris, it's easy to walk on the shady side of the street, and hats do perfectly styled hair no favours. But that cap reminded me of a very slim and very chic French lady at my Pilates class. She always cycled to the studio, and she wore a variety of caps just like that one. When I asked if she'd thought about wearing a cycle helmet (her route was mostly through a park, but all the same..) she gave me an incredulous stare, and said "No." when a French woman says "Non" you don't argue!
The last picture from the Paris visit was snapped at la Gare St. Lazare, as I waited for my train back to Normandy. The girl with the little dog was so cute. French blue dungarees over a cream, blue and red striped marinière top, red shoes and rucksack, and to top it all off, a red dog lead. Then she brought out a bottle of water and a bowl to give her pet a drink. The bowl was blue … Well, she'd hardly have bought all these items at the same store!
---
As always, much thanks to Kat for her photos and information.