|| 7 August 2022
Kat's After-Paris Reflections
Our Chic & Slim Special Correspondent Kat has recently visited Paris. Here are her reflections on the fashions she saw being worn on her July 2022 visit after she returned to her home in London.
Dear Anne, I'm glad you're pleased with the Paris reports. When reporting, I try to keep in mind the issues addressed in your books and on the website, for the sake of consistency. The Baronettes may not be quite so interested in an update on the Notre Dame reconstruction — I intended to check that out, for my own pleasure, but ran out of time.
When it comes to French style and fashion, naturally you [there in Texas] are at a bit of a disadvantage, having to rely on magazine articles, websites etc. I find that those often do not reflect the situation on the ground.
Time after time, sites such as Who What Wear tell us which 6 items every French woman over 50 has in her closet (along with the red lipstick on her vanity table) but what I see on the streets does not tell the same story. Maybe they are trying to keep a myth alive? If so, it's a bit of a problem, because it presupposes that to achieve French chic you must possess, among other items of clothing, a belted trench coat. I'm sure no French woman under 5'5" in height and carrying a few extra pounds around the middle would be seen dead in one. But I bet many non French women with the same statistics will read the article and rush out and buy the thing.
Also, articles featuring people like Carla Bruni (who isn't French) and dear old Inès (who, as you've pointed out, isn't really either) aren't much more help. In a recent interview, Carla said she exercises 3 hours a day, and eats next to nothing, in order to keep that, admittedly remarkable, figure. The French women I watched in the Paris cafes were eating! And most were in very good shape.
As we were driving away from our house, we stopped at the crossroads at the bottom of the (steep!) hill leading up to it. It was 9.30 am, and a large group of people of pensionable age were getting ready to walk up that hill, sticks in hand, trainers on feet. Seems I was right about "Le Footing".
Kat's Additional Comments
In a separate email, Kat included the photo below. Beneath the photo are her comments.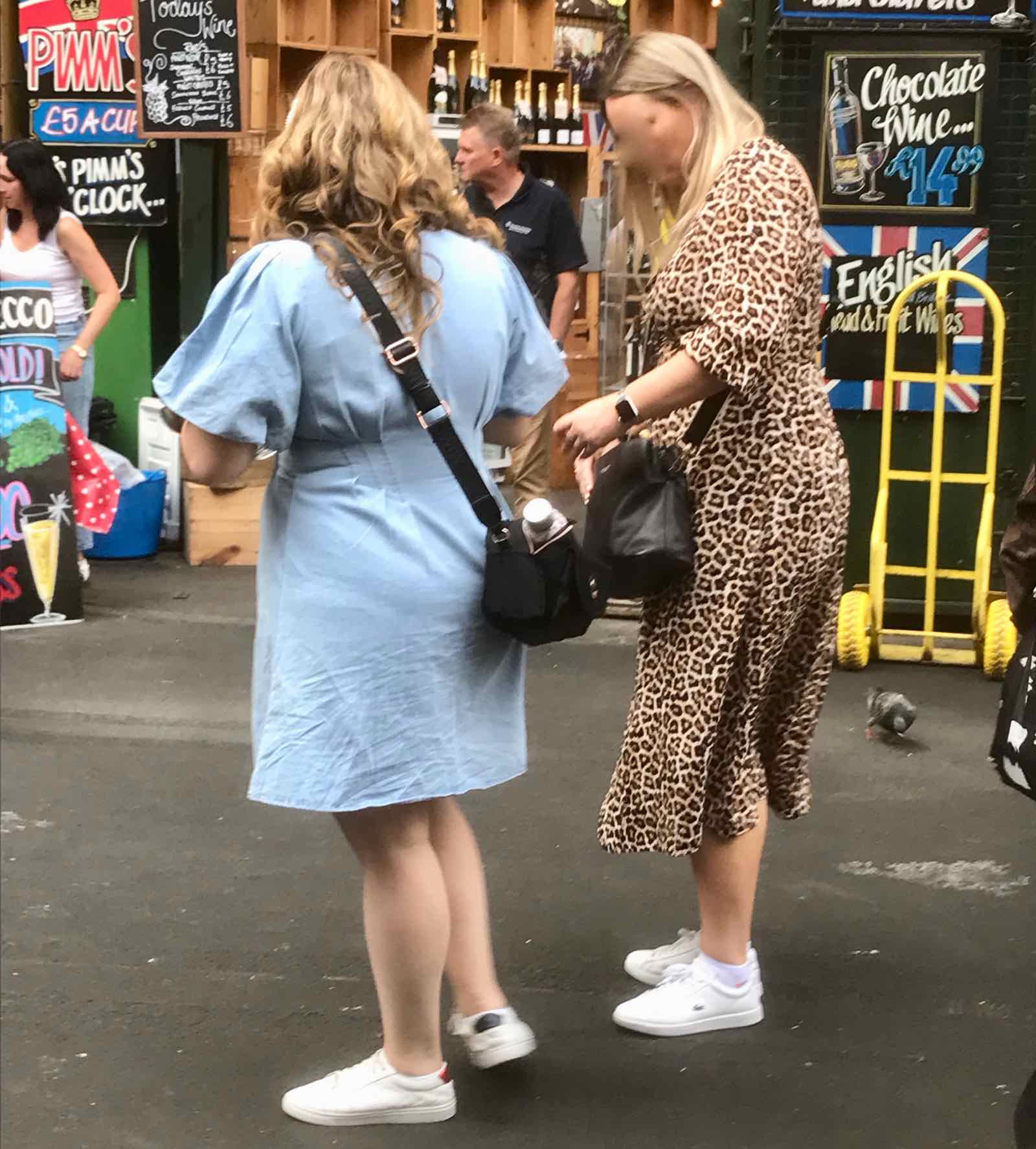 Image: two women shoppers in Borough Market July 2022.
Summer frocks and trainers again: but this isn't Paris. Spotted in Borough Market [London] this morning. Both ladies are overweight, and note the carefully curled hair on the one n blue. Note also the black leather bag, which does nothing for the dress. And the protruding water bottle. French women don't carry water bottles. If they are thirsty, they stop at a cafe. Or buy a drink and consume it on a park or city bench.
AnneNote: Depending on how much detail your screen shows, you may see the line running along the point where the leg and hip meet on the woman wearing the blue dress.
Underpants' indentions that show through your skirt or pants are not chic. Remember my admonition to you that, before you leave your home, you check your image, front and back, in a full-length mirror.
As always, much thanks to Kat for her photos and information.