|| 8 July 2018
Paris Report from Chic & Slim Special Correspondent Kat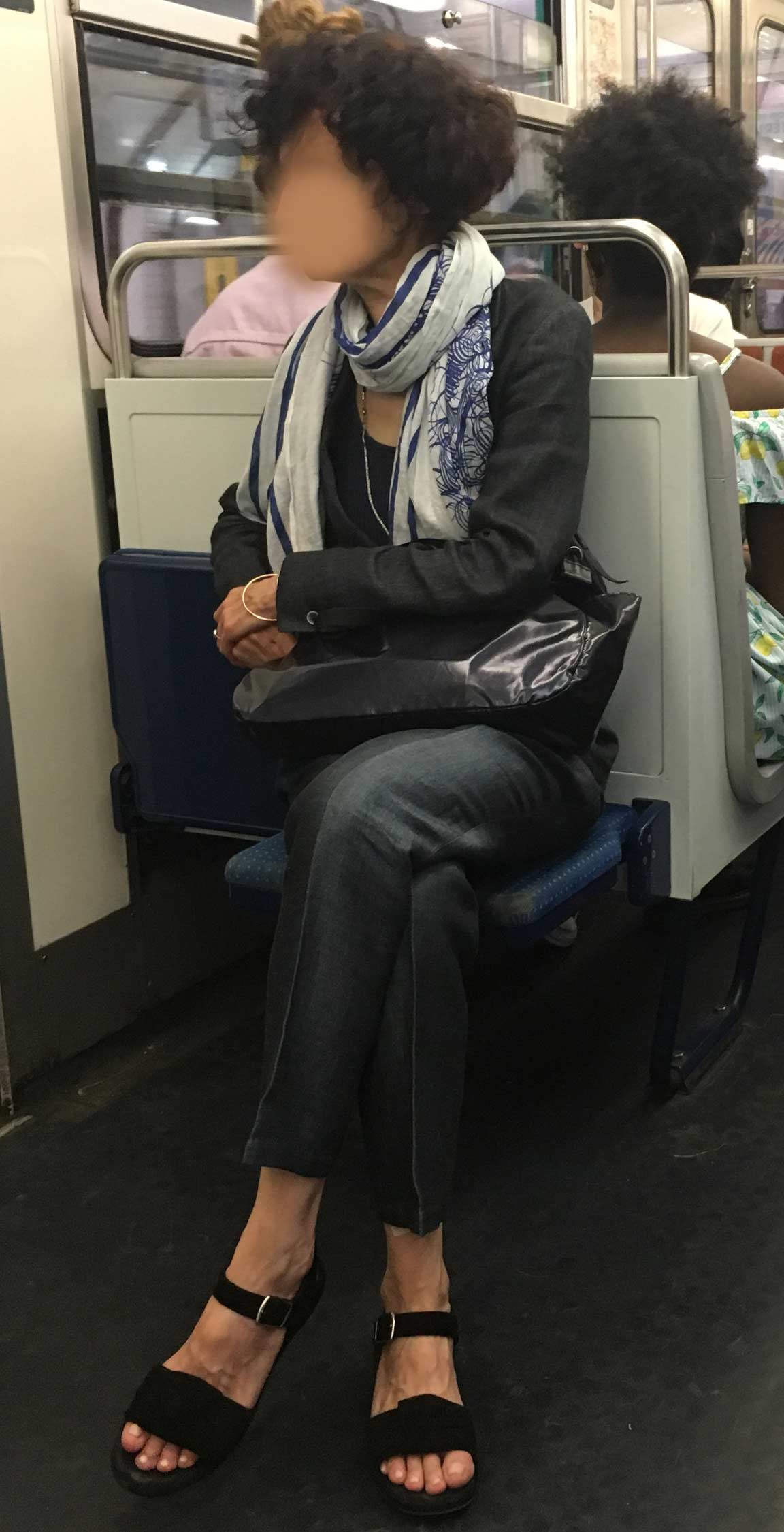 Image: Certain age chic spotted in the Paris Metro. Photo courtesy Chic & Slim Special Correspondent Kat
Kat's comment: Photo does not do the subject justice. She is probably well over 70. Looked amazingly chic, even without a speck of makeup.
---
Unfortunately, I didn't catch sight of many certain age women this time. It was very hot (over 30 degrees !) and, unlike your correspondent, they were probably being sensible and staying at home! By the time they emerged for un aperitif I was on the train back to Lisieux. (AnneNote: But fortunately for Chic & Slim, Kat spotted the very interesting example in photo above. Note all the details of her very chic ensemble.)
Usually I walk everywhere when in Paris, which is great for people watching as well as exercise, but it was out of the question this time. But even using the Metro and trudging round shops my phone told me I covered 11 km that day!
Shopping, even in Paris, bores me silly, but sometimes it has to be done. You might tell the Baronettes to avoid the changing rooms in Printemps if at all possible! You see yourself from all angles in those mirrors (good) and look enormous in all of them (soul destroying). Galleries Lafayette's are more forgiving, which may not be entirely a good thing, but at least you don't loose the will to live, let alone shop!
Also found some excellent white pants (half price!) in Marina Rinaldi. I may have mentioned this brand before. It is the big sister of Max Mara, and does sizes up to UK 20 plus, but the sizes of the two brands overlap. Beautiful, well made Italian clothes - expensive, but worth every euro! Timelessly chic, and very comfortable. I shop at both stores (mostly when the sales are on!) and always find exactly the right thing.
The rest of the day was spent getting the best manicure EVER at the Kure Bazaar space in Bon Marché (Clemence Von Mueffling is a fan of the brand, which is supposed to be super-kind to nails - we shall see how long it lasts). They have hundreds of shades, and don't ask you which you want, they tell you! In my case "French Nude", which is perfect. After that I browsed the THREE floors of Printemps, which are dedicated exclusively to beauty products! Where else on earth would you find that? No blasting music either, which was such a relief! You can actually hear yourself think.
Back in Normandy now, enjoying the lovely weather - and the food!
Best wishes, Kat