|| 20 October 2019
Parisian Chic - Part 2
French chic has always been defined by Parisian Chic. Yet when you consider that more than half the population of France lives within a 50-mile (80-kilometer) radius of Paris, that is not so surprising. Imagine if over 50 percent of the population of the USA lived within a 50-mile radius of New York City what effect that proximity to the USA's fashion center might have on personal style. And Paris is (arguably) the fashion center of the world !
As I told you in Parisian Chic - Part 1, our Chic & Slim Special Correspondent Kat was able to capture a shot of the sort of current manifestation of Parisian chic she observed on a recent visit to Paris — though she actually took the photo of this Parisienne in London. With the emailed photo, Kat included the comment: "She was stunning! Epitomised the new casual Parisian look I saw when I was there.".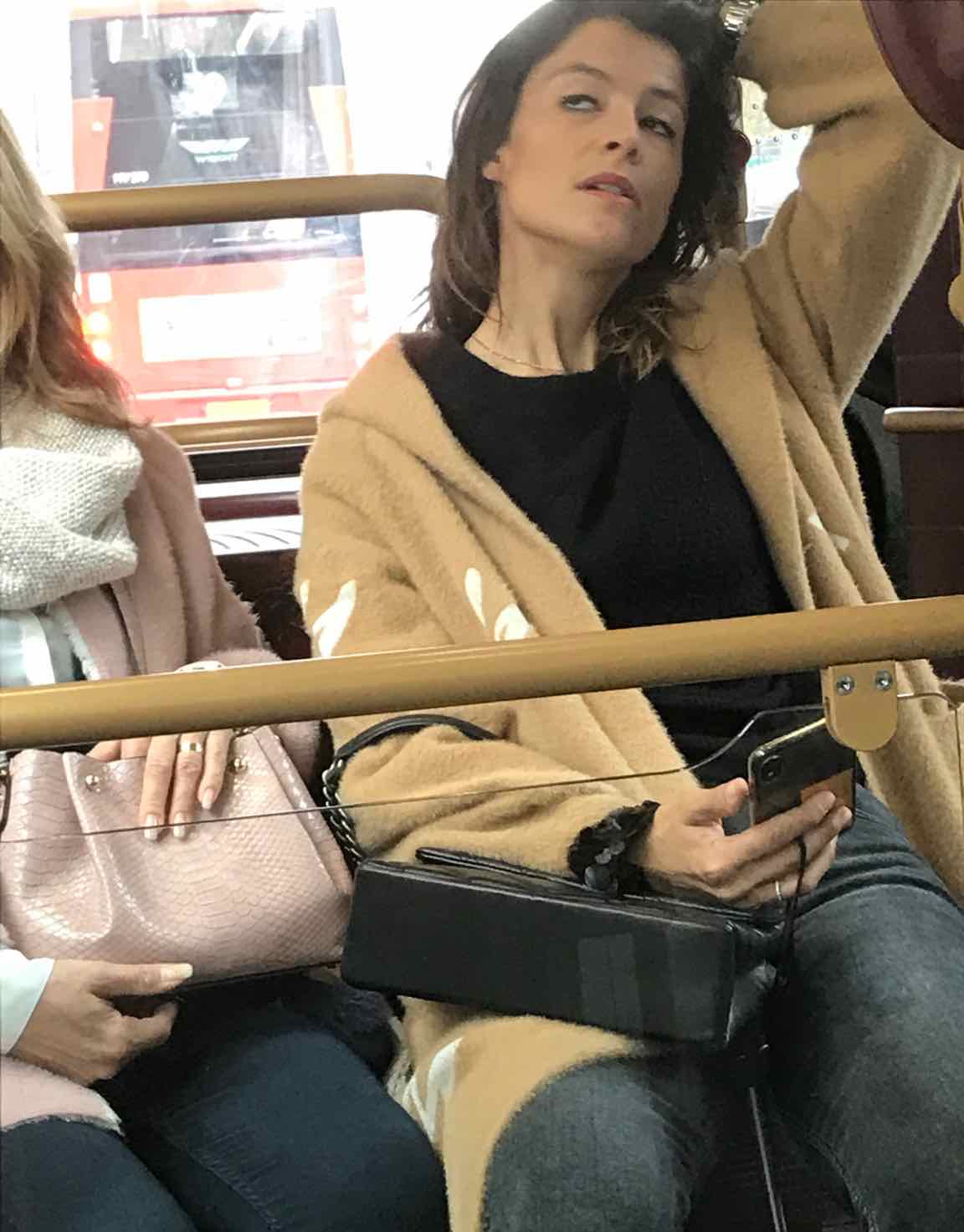 image: chic Parisienne as example of the current manifestation of Parisian Chic
The personal style of the young woman in this photo provides a wonderful example of how the more casual chic one sees in Paris today incorporates the traditional principles of French chic that I have been writing about in the Chic & Slim books and on this website.
Really impressive that Kat was able to snap this photo while riding on moving public transport — and without being observed by the young woman.
Following is my analysis of this Parisienne's personal style. After that, more comments from Kat.
As I wrote in Chic & Slim, French women have long preferred neutral colors. Here we see this in the young woman's gunmetal grey jeans, black top and camel jacket. Also I have told you how French women like to pair different shades and textures of the same color. Here the gray — a lighter shade of black — with the black top. The rougher denim of the pants and the smoother texture of the top.
The leather handbag offers another shade and texture of black. Note that the style of the handbag will work equally well with the jeans and casual jacket as well with more formal outfits.
As for accessories, the delicate chain around the throat, surely real gold. French women buy what they can afford, but of the best quality they can afford. On her right hand she wear a ring that appears to be old, worn. Is this perhaps the piece of jewelry inherited from a grandmother that so often French woman make one of their signature accessories?
Chic French women love contrasts. You have the delicate chain and ring contrasted with the heavy metal expansion bracelet of the watch she wears on her left wrist.
Her hair is a mid-length bob, the version with an unspecified side part. French women have traditionally wanted their hair to look "unstyled." Though usually effort goes into making it look that way.
This Parisienne's minimal makeup is very much in the tradition of French chic. Well brushed brows, lightly lined eyes, and the faintest of color on her lips. Skin is healthy and clear. As for her nails, they are well-manicured and unpolished.
Is she wearing foundation? Judging from the photo, I would say yes. Traditionally French women shunned foundation makeup when American women were lathering on the Max Factor and the Cover Girl. One reason more chic French women are opting for foundation these days is that many of these products offer protection from sun and urban pollution, increasing problems in Paris and almost all major cities of the world.
When young French women are establishing their personal style, they often choose a role model. This young woman seems to have chosen the French actress Anouk Aimée whom she physically resembles. Anouk Aimée's signature gesture is pushing her hair back from her forehead. Kat has managed to catch this Parisienne at the moment she is making the same gesture. Likely she has made this her own signature gesture. In French chic, gestures and habits of speech can be as much a part of personal style as dress and makeup.
Keep in mind that chic Parisiennes always conduct themselves as if others are watching.(And frequently others are.) Always a certain amount of performance in their demeanor. The young woman's posture seems to suggest a certain weariness and ennui. Very Anouk Amiée — especially as she was in character for some of her best-known films.
The bottom line: What stuck me most about the clothing and accessories the young Parisienne woman is wearing is that these pieces could be worn by women of any age. Her 70+ year-old-grandmother could wear this outfit, with these accessories, makeup and hairstyle equally well and look chic. (Though older women would probably sit with better posture so they would not be thought to be in a state of collapse.) Chic French women design a personal style that can evolve over the years with minimal revision.
Comments on the Parisienne from the Chic & Slim Special Correspondent Kat
Note the lack of colour. She is wearing a combination of neutrals which is very popular with Parisian women who don't seem to have much use for vivid shades except as (small) accents. That camel/grey/black combination is one I've seen a lot, particularly on Parisian visitors to Normandy. It is striking, because you so often see grey with black, or camel with brown - too predictable for a Parisienne?
Cream and grey is also popular, sometimes accessorised with burnt orange - which is also sometimes paired with navy blue. My daughter does this!
I was also struck by the classic hair and makeup - glowing skin, flowing hair: just great!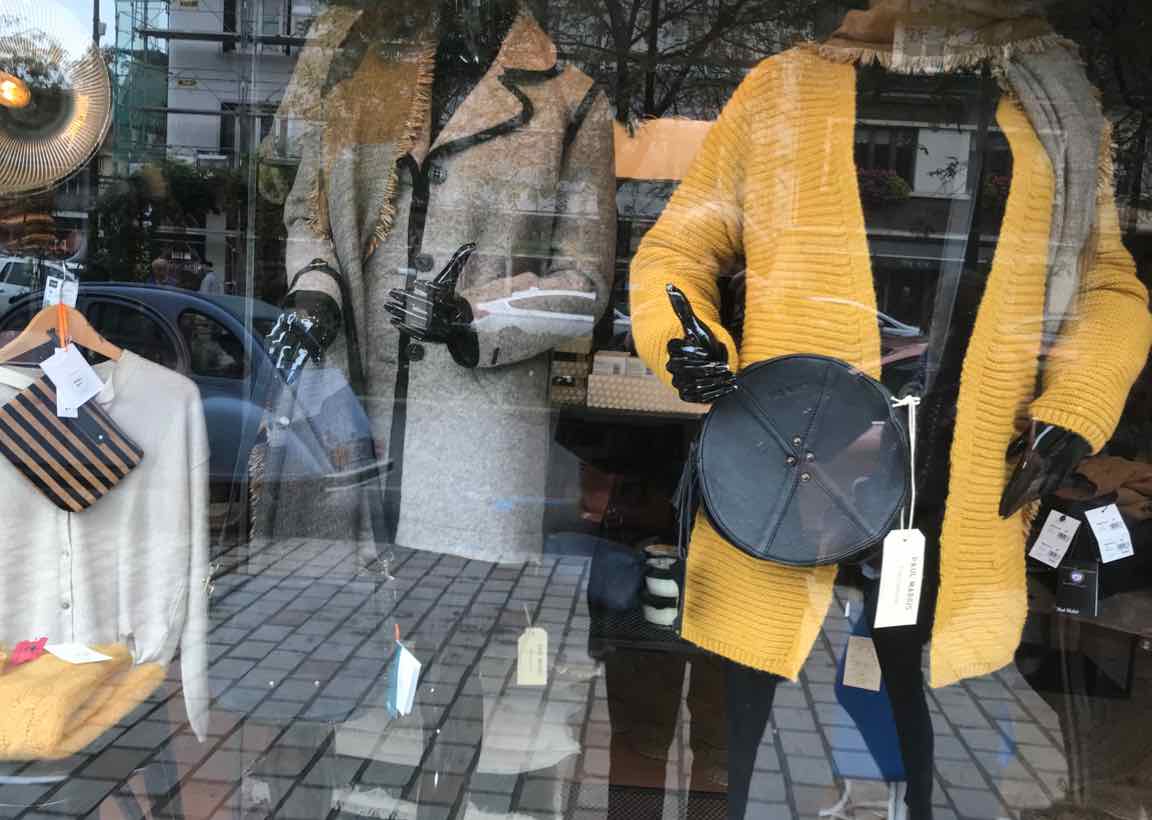 image: shop window France showing fashion for autumn 2019
More about current Parisian Chic
Kat, from France, more recently sent the photo of a window display in a women's clothing store she passed while shopping. She included the comment:
Attached is a photo of the autumn display in one of our local dress shops. As you will see, the base colours are all neutrals - in this case grey and black, with yellow as the accent colour . It looked most attractive, and included a straw tote bag (casual chic) but trimmed with faux fur (luxe) . It's all about contrasts!
Mille mercis to Kat for her photos and comments on Parisian Chic.
be chic, stay slim — Anne Barone