A tranquil spot, a cup of tea, a book, and something to nibble. Afternoon tea is my favorite time of day. Please join me for Thé de 5 Heures.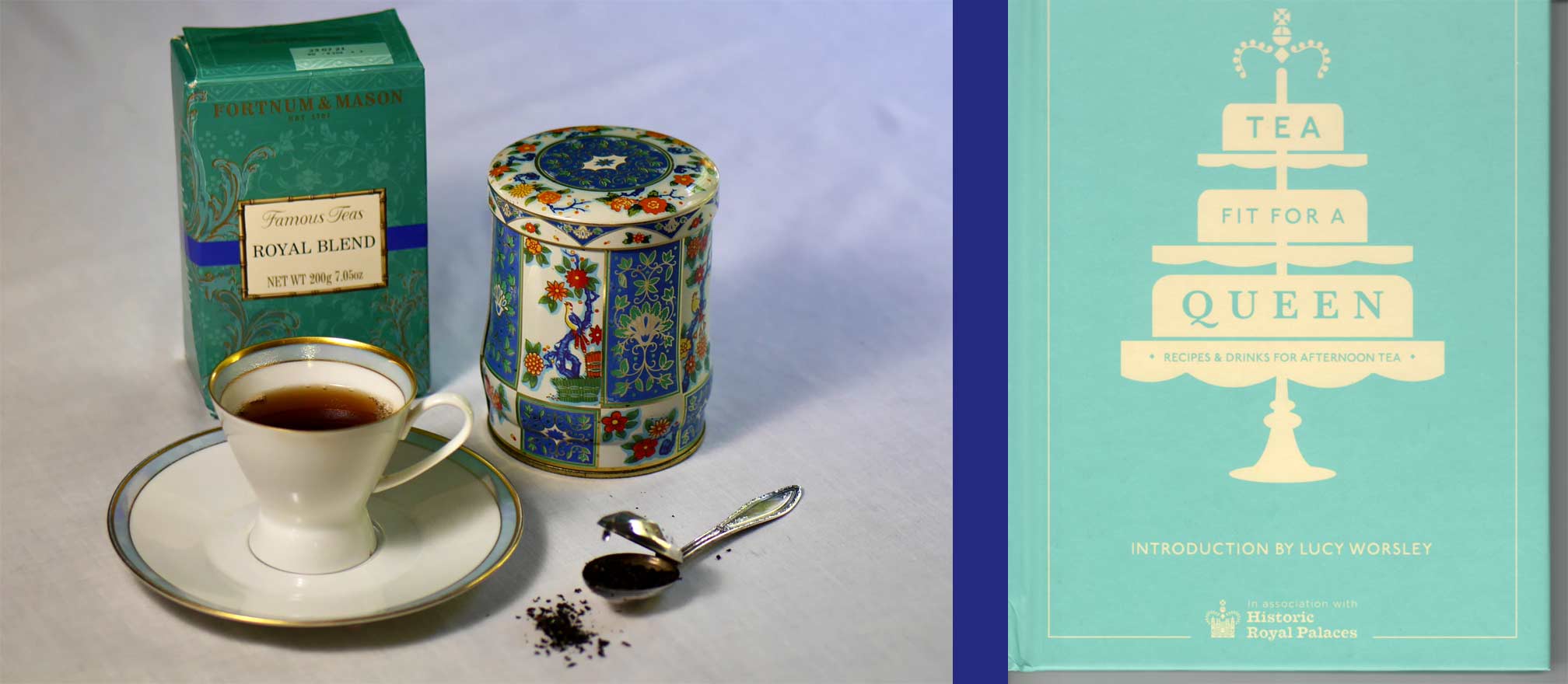 A Fortnum & Mason Royal Tea
|| 21 April 2019
This past Christmas I received a delightful combo gift: a package of Fortnum & Mason Royal Blend Tea and a book that made the perfect companion for that tea titled Tea Fit For A Queen: Recipes & Drinks for Afternoon Tea. In the photo above you can see the tea brewed and unbrewed (in silver infuser) and stored in my tea caddy whose Oriental motif I think is just perfect for this blend of Ceylon and Assam teas. On the left is the book.
This book, produced in association with Historic Royal Palaces has an introduction by Lucy Worsley, the chief curator of this organization.
This Royal Blend was created by Fortnum & Mason's tea masters in 1902 for King Edward VII. It remains this upscale London department store's most famous blend. More about this lovely tea and the entertaining and useful tea book in the sections following.
thé du jour / today's tea: Fortnum & Mason Royal Blend
Bertie, as this oldest son of Queen Victoria and Prince Albert was often affectionately called, may have had his faults, but he had excellent taste in tea. Fortnum & Mason describes this tea created for this British monarch (1901 — 1910): "In this classic Royal Blend, notes of Flowery Pekoe from Ceylon uplift the maltier Assam to create a very traditional cup of tea." Fortnum & Mason call their most-famous blend "an upgrade on your regular morning brew. Royal Blend's malty, honey-like flavour makes it an ideal partner to a strong breakfast marmalade or lunchtime Rarebit."
I would add that this Royal Blend makes a perfect afternoon tea, as well. And it makes an elegant mid-morning pickup, drunk with no food accompaniment — just a splash of creamy milk.
As Fortnum & Mason's Royal Blend website page suggests, I would agree that this tea is perfect drunk to accompany warm croissants or whole grain toast spread with a good Scottish marmalade. But my pick for today's Chic & Slim 5 o'Clock Tea is a finger sandwich created for the occasion of the coronation of another British monarch, the reigning Queen Elizabeth II. The recipe is featured in Tea Fit For A Queen: Recipes & Drinks for Afternoon Tea.
Tea Accessories: Rosenthal tea service china and English tea caddy — silver tea infuser
King Edward VII was of British and German parentage. For my tea accessories for this Royal Blend tea, I combine items made in the two countries. The china is German-made and the tea caddy is stamped Made in England. You see them in the photo at the top of the page.
For its packaging and the china used in its tea room, Fortnum & Mason use an aqua with accents of gold and white theme as you can see in the image below that shows three of the photos from the tea section of Fortnum & Mason's online tea shoppe.

In my photo at the top of the page, you can see that in my china, the predominating color is white with gold and aqua accents — though the shades of colors in the china of my Rosenthal tea service are close to those in the Fortnum & Mason tea accessories. I have never been able to learn the name of the pattern of my Rosenthal. But I did find a photo in one of my books on Art Deco that identifies the design as an example of 1930's Art Deco china.
The enameled tin tea caddy (just the perfect size to store my package of Royal Blend tea) is one I bought as a gift for my grandmother sometime in the 1970s. When she died, the tea caddy came back to me.
The tea infuser you see in my photo is Wm. A. Rogers silverplate. It was a wedding gift to a family friend at the time of her marriage almost 100 years ago in the early 1920s. The friend was not a tea drinker so she gave the infuser to me not many years before the end of her long life in the early 1990s. When not in use, the tea infuser rests in its original box wrapped in the original tissue paper in which it was sold.
le casse-croûte / the snack: Coronation Chicken Finger Rolls
For this 5 o'Clock Tea to accompany the Royal Blend I picked a recipe from the Sandwiches & Savouries section of Tea Fit for a Queen. The text tells us that:
"Originally called 'Chicken Elizabeth' this recipe was invented by Constance Spry and Rosemary Hume, the principals of the Cordon Bleu Cookery School, and was developed for Queen Elizabeth II's coronation in 1953. With tender chunks of chicken coated in mildly-spiced sauce with mayonnaise, the dish was deemed to have the appropriate combination of luxury and austerity at a time when the country was still experiencing post-war rationing.
à lire / to read: Tea Fit for a Queen: Recipes & Drinks for Afternoon Tea
I own a number of tea books that blend the history of tea and tea drinking with recipes for pastries and sandwiches and other tea fare. Tea Fit for a Queen is this style of book, but its inclusion of history and architecture of Royal British Palaces — and the tea drinking in those palaces — makes it more interesting and enjoyable than many tea books.
Another plus for this book are the recipes. Bakewell Tart. Fruit Teacakes. Chelsea Buns. Smoked Salmon Tartlets. Even though the book's recipe measuments are given in metric (so many grams of this, so many grams of that) the recipes are not complicated. For those more accustomed to cooking with American cups and teaspoons, you can work out the conversions, or just buy an inexpensive kitchen scale that shows metric and use the book's given measurements. The recipes are worth the extra bit of effort, I believe.
In a related posting, I will tell you about my experience making the finger rolls and the chicken filling. Read more about Coronation Chicken Finger Rolls.