A tranquil spot, a cup of tea, a book, and something to nibble. Afternoon tea is my favorite time of day. Please join me for Thé de 5 Heures.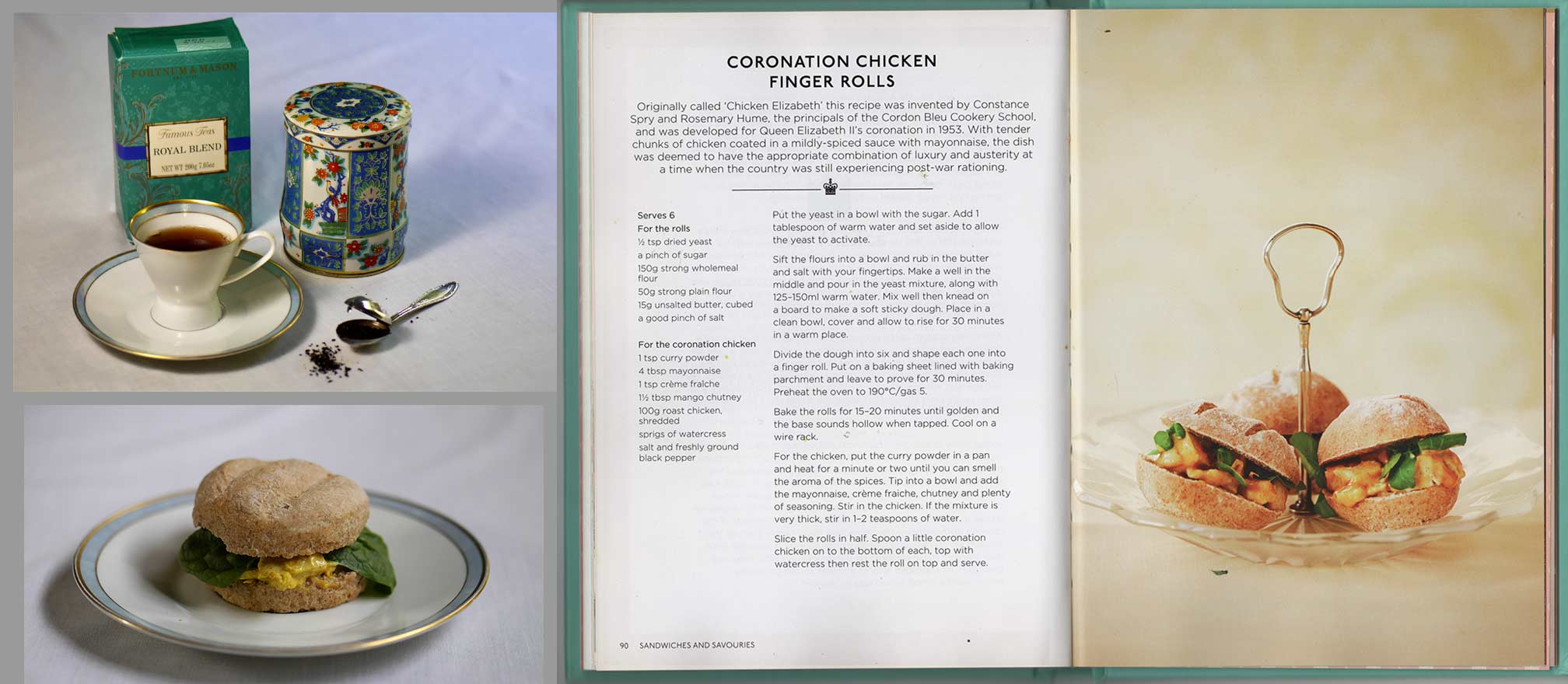 Coronation Chicken Finger Rolls
|| 28 April 2019
In the previous 5 o'Clock Tea titled A Royal Tea, to accompany Fortnum & Mason's Royal Blend, I chose the recipe for Coronation Chicken Finger Rolls. These canapés are from the Sandwiches & Savouries recipe section of the tea book Tea Fit for a Queen. Today I want to tell you about my experience making — and eating — these delicious little sandwiches.
Tea Fit for a Queen's text tells us that:
"Originally called 'Chicken Elizabeth' this recipe was invented by Constance Spry and Rosemary Hume, the principals of the Cordon Bleu Cookery School, and was developed for Queen Elizabeth II's coronation in 1953. With tender chunks of chicken coated in mildly-spiced sauce with mayonnaise, the dish was deemed to have the appropriate combination of luxury and austerity at a time when the country was still experiencing post-war rationing."
First of all, I will say that my modified version of the chicken filling of this recipe is more likely what was served at the coronation festivities in 1953 than the recipe as given in this book published in 2004.
I base my opinion on two factors. First, as mentioned in the book's description, Elizabeth II's coronation took place when there was still substantial post-WWII rationing. The second has to do with Lord Louis Mountbatten, uncle of Prince Phillip, consort of Elizabeth II.
The new queen's uncle-in-law Mountbatten had recently returned from serving as the last British Viceroy of India. Like me — and those thousands who tasted these coronation canapés who were familiar with Indian curry — Mountbatten would surely have gagged if the curry-flavored filling had been made with mayonnaise instead of yogurt — or with, as the Indians say, curds.
At the time of the coronation, mayonnaise requiring eggs and olive oil would have been expensive. But yogurt made from milk much less so. And if you replace the mayonnaise in the book's recipe with yogurt, what you have is a finger roll that tastes exactly like Indian chicken curry traditionally topped with yogurt and mango chutney and eaten with a chapati, a whole wheat flat bread. Mayonnaise would have been wrong. Just wrong.
I might have not have realized this as quickly if, when I was making the chicken filling the first time, I had not reached into the refrigerator for the mayonnaise and discovered that I only had about 1 teaspoon left in the jar. Since I generally substitute whole milk plain yogurt in any recipe calling for mayonnaise or sour cream, yogurt was the natural substitute when my amount of mayonnaise was insufficient.
So the filling as I made it :
1 cup of chopped roasted chicken (skin removed),
1 teaspoon mild curry powder,
4 tablespoons whole milk yogurt
1 teaspoon mayonnaise (to replace the crème fraiche called for in the book's recipe)
1 tablespoon sweet mango chutney
baby spinach leaves for garnish (The book's recipe calls for watercress, a plant scarce to non-existent in many local stores in the USA. Certainly in my stores.)
To make the filling, put the chopped chicken in a pan or bowl depending on whether stovetop or microwave and heat the spiced chicken until hot. Cool to room temperature and then add the rest of ingredients and mix well. Spread between upper and lower portion of the sliced rolls.
Note: I would say that an advantage of mayonnaise, at least commercial mayonnaise, over yogurt would be that, if the filling made with yogurt is kept in the refrigerator for more than 12 hours, it can become watery. With mayonnaise not so much so. Additionally, Greek style yogurt, thicker than regular yogurt, would be preferable for making the filling over the regular yogurt I used.

The finger rolls are to be made from half whole wheat flour and half a high protein unbleached wheat flour. When I made the rolls, I formed them too large. The width was okay, but I had to cut out the middle third of the rolls to create a size that was in balance with the amount of spiced filling I could stuff between top and bottom and not worry about the filling falling out.
If you are not needing finger rolls for party fare, the spiced chicken filling makes a delicious salad served on a bed of spinach leaves or lettuce. Good with a slice of toasted whole wheat bread or a multi-grain Wasa cracker.
This nice marriage between whole grain and curry-flavored chicken with yogurt and chutney for a more exotic taste are good with almost any unflavored green or black tea, but Coronation Chicken pairs especially well with the Ceylon and Assam that Fortnum & Mason blend for their Royal Blend Tea.