A tranquil spot, a cup of tea, a book, and something to nibble. Afternoon tea is my favorite time of day. Please join me for Thé de 5 Heures.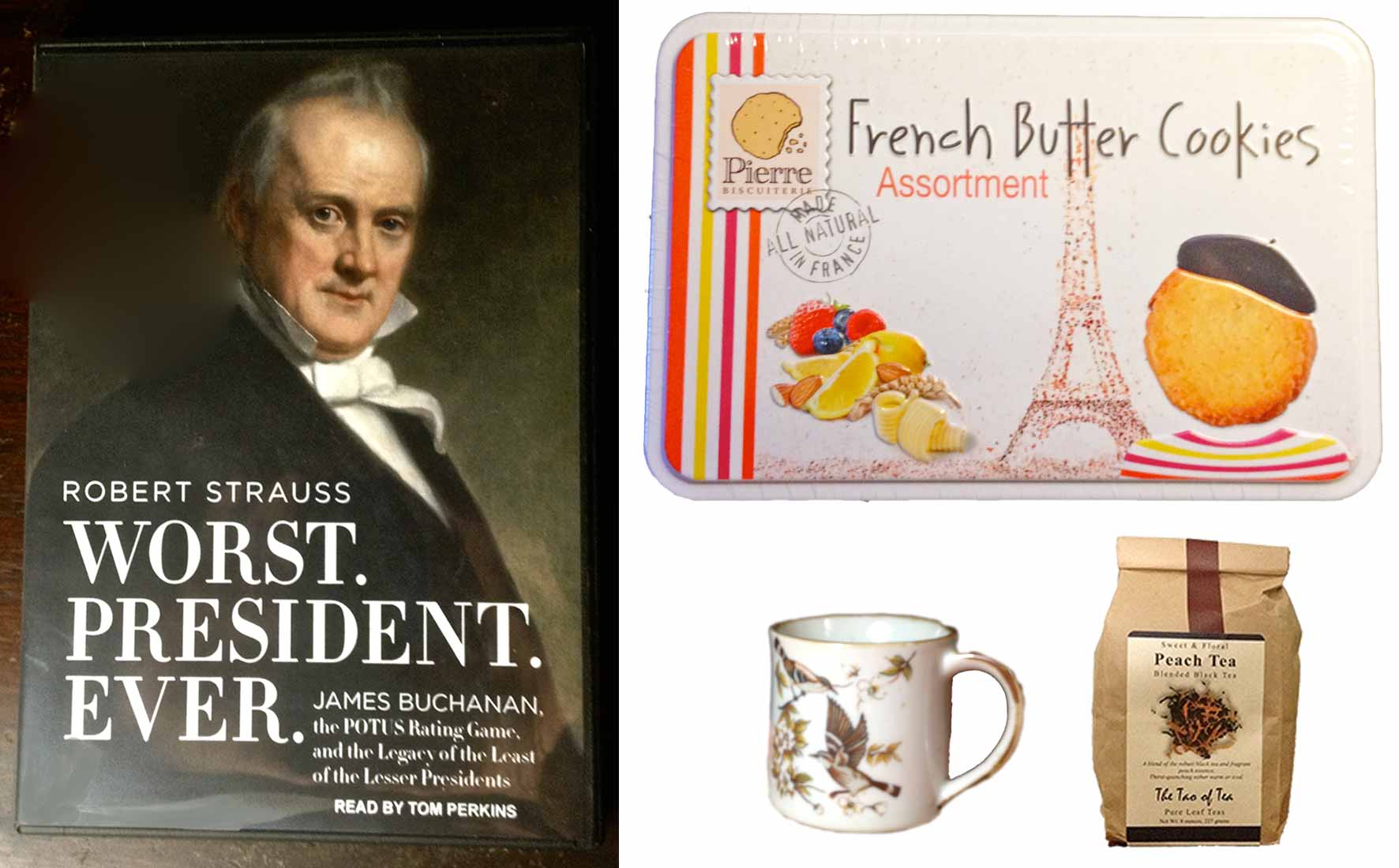 A Dismal January Tea
The day is cold and raining. Parts of the country are coping with ice storms. A good day to warm and cheer yourself with a nice steaming cup of tea.
à lire / to read (actually, I am listening to the audiobook)
WORST. PRESIDENT. EVER. James Buchanan, the POTUS Rating Game and the Legacy of the Least of the Lesser Presidents by Robert Strauss. Read by Tom Perkins.
James Buchanan has long held the title as America's worst president. Consequently, there was no comprehensive biography of the 15th president 1856-1860 to detail what made him so terrible. Enough to say that his presidential actions — and inactions — lead to the Civil War. He meddled in the Supreme Court's decision in the Dred Scott case, thought by many historians to be the worst Supreme Court decision ever. (Decided that a slave was a slave even when he was in a free state.) The author gives a balanced discussion to the question of whether Buchanan was gay. He also presents convincing evidence that Buchanan's fiancée committed suicide, but can give no substantial clues as to why a young woman in good health and spirits in the afternoon would take her own life later that evening.
thé du jour / today's tea
The Tao of Tea PEACH TEA. A blend of robust black tea, calendula flower petals and peach essence. (a lovely Christmas gift).
le casse-croûte / the snack
Assorted French Butter Biscuits (another lovely Christmas gift).
la musique / the music
Music of Stephen Foster, known as "the father of American music." (Oh! Susanna, Camptown Races, and My Old Kentucky Home)
President James Buchanan was related via the marriage of his sister to this popular mid-19th century American songwriter. Campaign music was as important to 19th century presidential campaigns as television ads are today. Stephen Foster wrote songs for James Buchanan's campaign that helped him win the White House.
You can read more about WORST. PRESIDENT. EVER. on NPR Author Interview.
Other 5 o'Clock Teas with Anne Barone